The Duchess of Cornwall and Hollywood actress Angelina Jolie – both champions of the plight of rape victims – met last week for informal discussions about their work to improve conditions for victims of sexual abuse.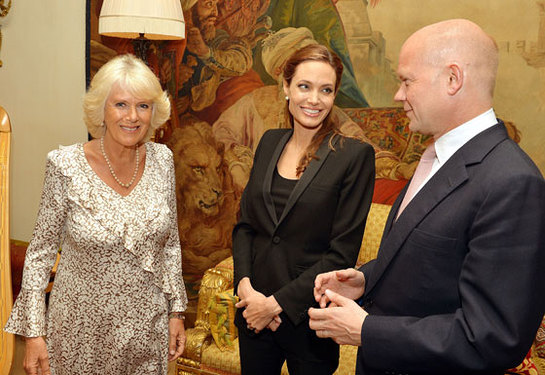 In recent years, Her Royal Highness and Ms Jolie have worked to highlight the issue of sexual violence and they were joined for their meeting by Foreign Secretary William Hague.
The discussions covered the common ground between their work, with the pair sharing ideas.
Angelina Jolie was in London co-chairing the Global Summit to End Sexual Violence in Conflict with Mr Hague, and they were joined at the event earlier by the actress's partner, Brad Pitt.
The Duchess has visited rape crisis centres across the UK and abroad and is pioneering a scheme to provide victims of sexual abuse with toiletries after undergoing forensic examinations.
Ms Jolie, who is special envoy for the UN High Commissioner for Refugees, has focused on trying to raise awareness about the use of rape as a weapon of war.
She also directed the film In The Land of Blood And Honey, set during the Bosnian War, which highlights the issue of sexual abuse.
A few months ago, The Duchess visited a rape and sexual abuse support centre in Guildford, Surrey, where she met volunteers and had a private meeting with a survivor – one of many visits she has made to centres over the past four years.
The Duchess came up with the idea of providing rape survivors with toiletries after speaking to women during a visit to a rape crisis centre in Derbyshire.
Last year she said she hoped the project would help people feel better at a traumatic time in their lives.
The two-year pilot scheme will see shower and bath products donated by firms collected into wash bags and given to victims.
Source: www.princeofwales.gov.uk