A British teenager recently got to meet TV host Jeremy Kyle thanks to the Make-A-Wish Foundation in the UK.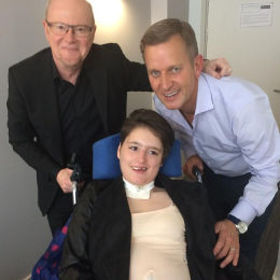 18-year-old Destiny Boyton, from Worcester, was born with Cerebral Palsy. Destiny loves watching Jeremy Kyle because of the lively, interactive nature of the show and never misses an episode, even when in hospital – so Make-A-Wish arranged for her to meet her favourite TV presenter!
Destiny was diagnosed with cerebral palsy at birth and has three types of epilepsy. Surgery to fix her curving spine resulted in acid reflux during and after the operation, which burnt her lungs and left her very susceptible to chest infections. She has breathing problems and attends hospital twice a year to have antibiotics inserted into her veins to prevent infections.
Upon arrival at the studios, Destiny was taken to meet her favourite star, Jeremy Kyle! After chatting and signing autographs, Destiny was given a tour of the studios by Jeremy and programme psychologist Graham Stanier. She then spent the rest of the day as a VIP in the Green Room, watching the show being recorded.
Mum Carolynne sayd: "The wish helped Destiny take her mind off her condition and allowed her to be herself – she was treated as Destiny and not just the girl in the wheelchair. Destiny was a VIP for the day and we have so many special memories to treasure. The best moment was seeing her face light up when Jeremy opened the door to her – it was amazing."
Jeremy Kyle said: "Make-A-Wish does fantastic work granting wishes of children with life-threatening conditions and it was a real pleasure to have met Destiny and spend time with her on set. She was a very engaged young lady and everyone involved in the show enjoyed showing her round backstage and getting to know her."
To help Make-A-Wish keep granting wishes to children like Destiny, click here.
Source: Make-A-Wish UK