By Tim Saunders on
Kitten Rescue, Los Angeles's largest no-kill animal rescue group, held its first annual Fur Ball celebration on Sunday at the Skirball Cultural Center.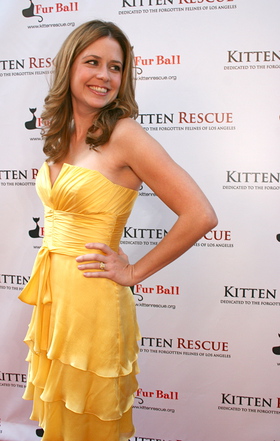 Hosted by longtime Kitten Rescue supporter and former volunteer Jenna Fischer (NBC's "The Office"), the Fur Ball featured cocktails and dinner, live entertainment, a film presentation about Kitten Rescue, a silent auction, and awards for special members of the Kitten Rescue community, including actress Tricia Helfer ("Battlestar Galactica", "Burn Notice").
Fischer is a self-confessed cat lover – although not quite as fanatic as her co-star on The Office: "In the show, Angela has all these elaborate procedures for her cat. I've done all that – the eye drops and ear swabs. I've checked their poop and massaged their tummy."
The 34-year-old also ran her own kitten crisis line for a year: "That was like being a social worker for cats. You feel totally responsible when someone calls about an abandoned kitten."
Other stars showing their support were Emily Deschanel ("Bones"), Wendi McLendon-Covey ("Reno 911"), Daniela Sea ("The L Word") and Kent King ("General Hospital"). Funds raised at the Fur Ball will go to support Kitten Rescue's programs and the Kitten Rescue Sanctuary.