Stand Up To Cancer (SU2C), a program of the Entertainment Industry Foundation, and Genentech, one of the world's leading biotech companies, have joined forces with GRAMMY-winning singer, Oscar-winning actress, and SU2C Ambassador Jennifer Hudson for their latest campaign, entitled: "Two Worlds. One Dream."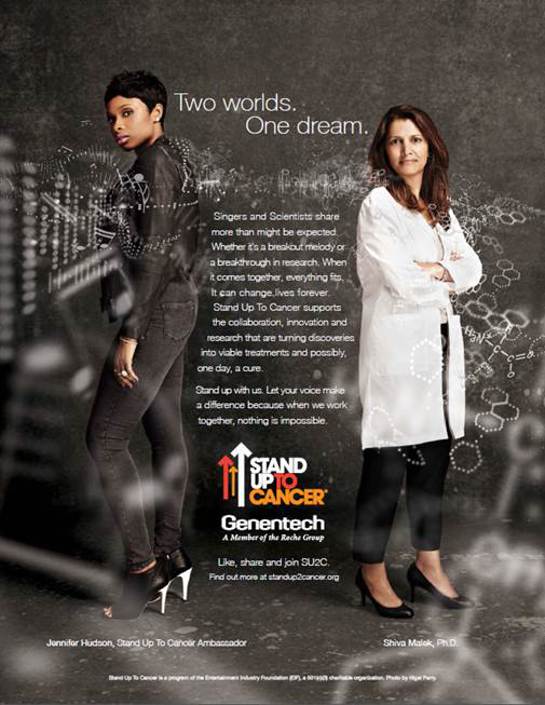 Debuting in July, the public service announcement (PSA), which will appear in print, digital, radio, and broadcast media, highlights the incredible work being done by today's leading cancer researchers and stresses the importance of supporting innovative research.
The powerful PSA, which features Jennifer Hudson and Genentech senior scientist Shiva Malek, Ph.D., notes the similarities between the worlds of art and science — reinforcing how much can be accomplished when we work together. The "Two Worlds. One Dream." campaign charges everyone — from doctors and scientists to artists to patients and survivors — to unite in the fight against the collection of diseases known as cancer, which take the lives of nearly 1,600 Americans every day.
"I, like many others, have friends and loved ones who have been affected by cancer," said Jennifer Hudson. "I'm proud to join Genentech and Stand Up To Cancer on this PSA campaign, which showcases cancer researchers as the rock stars they really are and highlights the importance of supporting their vital work."
"Stand Up To Cancer was built on the idea that people from different disciplines can come together in the hope of making everyone diagnosed with cancer a survivor," said Lisa Paulsen, co-founder of Stand Up To Cancer. "We are so grateful to Jennifer Hudson and Genentech for their invaluable support. This PSA champions collaboration, which is a cornerstone of SU2C, to inspire the public to realize their role in supporting scientific research that has the ability to transform lives."
"Stand Up To Cancer brings together some of the best and brightest minds in cancer research to collaborate in the fight against this terrible disease,'' said Geoff Teeter, Vice President of Corporate Relations at Genentech. "We are excited to partner with Jennifer Hudson and SU2C on this campaign, and share the belief that progress happens faster when we work together.''
For more information on the campaign, visit standup2cancer.org.