One Direction are offering fans the chance to win an amazing once in a lifetime opportunity to fly to Miami to meet the band at the final gig of the 'Where We Are' world tour.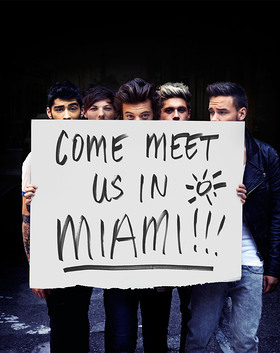 Donations to enter the prize draw will support Stand Up To Cancer, a joint national fundraising campaign from Cancer Research UK and Channel 4, raising funds to accelerate new cancer treatments to patients and save more lives.
Harry, Zayn, Liam, Niall and Louis have all pledged their support to the campaign by offering this incredible experience. The prize includes flights to and from Miami, from anywhere in the world, accommodation, tickets to the show and a chance to meet the band on Sunday 5th October 2014 for one lucky winner and a guest. After meeting the band, the winner will also receive an array of signed merchandise.
To enter, fans can go to www.prizeo.com/onedirection and donate £5 which will go towards vital research into cancer.
Liam said: "Stand Up To Cancer is an amazing initiative that we've been working with for a little while now. We wanted to offer this amazing trip to Miami as a really special prize that we hope will help raise funds for such important research. We would love our fans to give whatever they can, to this incredible cause. We can't wait to meet the winner in Miami baby!"
Claire Rowney, director of Stand Up To Cancer UK, said: "This is an incredible prize that One Direction have given and we're so grateful to them for their support. We've made amazing progress against cancer in the past few decades but more than one in three of us in the UK will develop cancer in our lifetime so we can't afford to stand still. Cancer is a complex disease – there are more than 200 types and thousands of subtypes, which is why funding more research is imperative to be able to find a cure."
In 2012, Stand Up To Cancer's fundraising total exceeded £8m funding 12 clinical trials across the UK and this year's aim is to do even better. The 2014 campaign is encouraging people to join the front line against cancer this autumn by fundraising, buying merchandise, joining March On Cancer and tuning in to the live TV show on Channel 4 on Friday 17th October. The culmination of activities will see stars from TV, music, film and fashion joining forces to galvanize the nation to show cancer, that it's payback time.
Check out this video of the boys talking about why they are supporting the campaign and the fantastic prize. The merchandise the boys is wearing is available to buy online at standuptocancer.org.uk and selected items will be available from Cancer Research UK shops across the country from September.