Popular actor and television star, Ross McCall, known for his roles in the acclaimed TV series, "24: Live Another Day," "White Collar," and "Band of Brothers," will soon be joining marine conservation non-profit Sea Shepherd Conservation Society in the remote Faroe Islands to assist with its pilot whale defense campaign, Operation GrindStop 2014.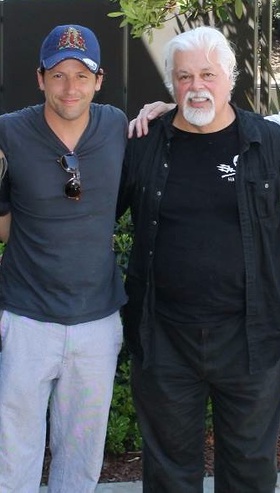 Always thinking about giving back in the wake of the successful acting career he has enjoyed, McCall will be joining Sea Shepherd's multi-national volunteer teams that have traveled to the Faroe Islands (in the North Atlantic between the UK and Iceland) since mid-June of this summer during the height of pilot whale migration season to work onshore and offshore to try to stop the very cruel and archaic whale drive hunt in the Faroes, called the 'grindadrap' or 'grind,' where entire pods of intelligent and sentient pilot whales are herded into shallow bays and hacked to death with knives – taking several generations of whales from the sea at a time.
McCall joins the campaign as Operation GrindStop 2014 successfully sparks worldwide outcry against the slaughter of whales in the Faroe Islands. Last Saturday, August 30, after an entire summer of no grind activity since Sea Shepherd arrived on the scene 85 days prior, the day's events sparked an international incident and global media attention when the local Faroese whalers drove a pod of 33 migrating pilot whales to shore and slaughtered them, despite Sea Shepherd's dedicated attempts to intervene by land and by sea. All 14 of the activists on the island of Sandoy who intervened were arrested and 3 of their speedboats were seized and remain in custody. The "Faroes 14," as the activists have been dubbed, have since been released and a sentence of 1,000 kr in fines and deportation is being proposed for each member of the land team (the boat team appears in court Sept. 25). A decision for the land team is due Monday, September 8. Operation GrindStop 2014 is expected to continue until Oct. 1.
Before traveling to the Faroe Islands, the 38-year-old Scottish native son returned home to Glasgow on Sunday, Sept. 7 to fulfill a long-time dream. The star of cult classic football movie "Green Street Hooligans," also a huge Celtic Football Club fan, played in the Celtic Football Club's Maestrio Charity Football Match at Paradise. McCall gave his celebrity to this charity match to raise money for the charitable arm of the team, the Celtic FC Foundation.
Earlier this year, the actor took time away from his busy schedule to deliver a collection of Celtic strips to the Casa Hogar of Sion Orphanage in Tijuana, Mexico, which was donated by the Celtic FC Foundation. Impressed by the work the Foundation does, McCall says raising money to support their vital work only added to his enjoyment of the match on Sunday.
McCall will arrive in the Faroes late Monday and will join the Sea Shepherd crew on their patrols on Tuesday and Wednesday. Though he must leave on Thursday, Sept. 11 to get back to his busy filming schedule, he plans to pack a lot of activity into his brief visit. In addition to joining Sea Shepherd's land and boat teams on patrols, McCall will visit a local school to speak with children about the importance of protecting our oceans. If time allows, who knows — he may even organize a football match between Sea Shepherd and the local Faroese, whom he has heard are as crazy as he is about football.