The Sandals Foundation, the philanthropic arm of Sandals Resorts International (SRI), and Wade's World Foundation, NBA Champion Dwyane Wade's charitable organization, today officially opened donations to raise funds for Game Changer, an integrated sports program to benefit youth in underserved communities in South Florida and the Caribbean.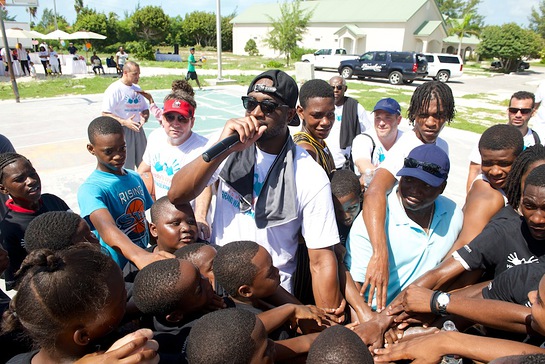 Financial contributions can now be made through the Sandals Foundation's website, as well as a new, text-to-donate campaign which was recently announced during Dwyane Wade's 6th Annual Brand Wade Summit at Beaches Turks & Caicos Resort Villages & Spa, and allows donors to 'change the game' by texting GAME to 41444.
Monies raised through the three-year iconic relationship between The Sandals Foundation and Wade's World Foundation will give underprivileged youth access to planned sports, recreation, healthy lifestyle and family engagement. Game Changer will also provide for the upgrading and refurbishing of 11 multi-purpose sports courts in the Caribbean and South Florida including one planned at the court at Marshall Williamson Park, located in the heart of South Miami, Florida.
"We're thrilled to create awareness for Game Changer with Dwyane Wade and Wade's World Foundation and to officially get the program off the ground," said Adam Stewart, President of the Sandals Foundation and CEO of SRI. "It's the first time our Foundation has worked so closely with a celebrity, and while Wade's enormous popularity means we can reach a wider audience with our message, it's really his commitment to giving all kids a shot at a better life that makes the Foundation proud and honored to work with him."
In addition to the official kick-off of the donation campaign, Wade also created a public service announcement while in Turks & Caicos, one of Caribbean destinations, which will be impacted by the goodwill of the Game Changer program. Filmed by famed commercial and music video director Gil Green, the call-to-action PSA hopes to bring awareness to the importance of improving both physical wellness and social conditions in South Florida and the Caribbean. With planned distribution via social media as well as through both Foundations' websites, the PSA will also shed light on the opportunities to partner and donate to the Game Changer program.
Dwyane Wade, on commenting why Wade's World Foundation has partnered to create the Game Changer program with the Sandals Foundation, said "South Florida is not only important to my Foundation, but it serves as a neighboring community to the Caribbean. The opportunity to partner with the Sandals Foundation was a natural progression to the work we do and affords us the chance to continue to expand our reach internationally providing today's youth with safe and fun places to learn, explore and develop their potential."
For more information or to donate to the Sandals Foundation's Game Changer program, please visit www.sandalsfoundation.org. To learn more about Wade's World Foundation, please visit wadesworldfoundation.org.