By Tim Saunders on
British soul and R&B singer Lemar attended the SADS UK Grand Charity Ball on Saturday.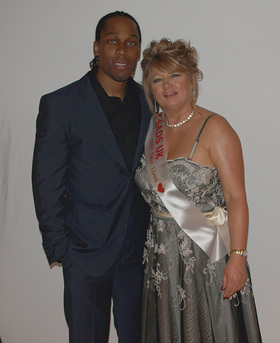 Just arrived back in the UK from Canada and flying off to a show in Edinburgh early on Sunday morning, the 30-year-old hitmaker joined dignitaries at the event in London to raise awareness of Sudden Arrhythmic Death Syndrome, an umbrella term that includes a range of conditions such as cardiac arrest.
"Up to 120,000 people suffer cardiac arrest in a public place each year and cardiac arrest can affect people of all ages, sometimes even children," said the singer during the evening. "So please support the work of SADS UK and give generously tonight."
The evening also featured DVD messages of support from Rhydian, Leona Lewis and Ray Quinn, who all donned SADS UK T-shirts.
Lewis also donated an autographed dress to be auctioned during the Ball. Other auction items included a cap signed by Formula One legend Lewis Hamilton and a cricket bat signed by Freddie Flintoff.
SADS UK is a charity that helps to prevent premature loss of life and to improve the lives of those adversely affected by cardiac arrhythmia. It raises awareness about heart conditions that can cause a Sudden Arrhythmic Death, and works with government departments to introduce new guidelines to safeguard those who may be at risk from a fatal cardiac arrhythmia. The charity raises awareness about conditions that may cause SADS and symptoms that need further investigation, and highlights the fact that conditions can be hereditary.
The organization is currently supporting a petition to make AEDs (Automated External Defibrillators) available in all schools in the UK. To put your name to the petition, visit here.