The Duchess of Cambridge attended the launch of a fundraising campaign this week to help East Anglia's Children's Hospices (EACH) build a new £10 million hospice in Norfolk.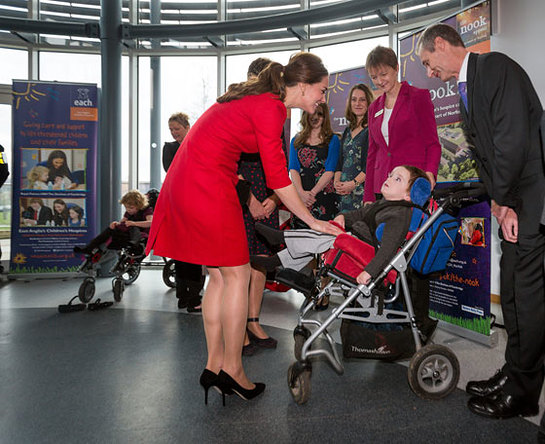 Hundreds of guests at the appeal launch attended from across Norfolk and beyond including individuals, businesses, charitable trusts, voluntary and community groups who had the opportunity to learn about the appeal and see how they can help.
Among them was Leigh Smith, a 33-year-old physiotherapist from Norwich whose daughter Beatrice died from a rare heart condition after just 89 days, who said that The Duchess of Cambridge wrote personally to console her following the death of her baby daughter after she wrote a letter to Her Royal Highness outlining her story.
Mrs Smith said: "I was so surprised to receive a letter with such personal comments and signed by her. I was touched that she had taken so much time to carefully read my letter and then to reply herself – it shows how much she cares.
"When I met her today she remembered the letter and said it was an honour to meet me. I was completely taken aback – for me it was an honour to meet her."
The new hospice for Norfolk would be called The Nook and be built on a woodland plot near the village of Framingham Earl. The charity's current Norfolk hospice in Quidenham is one of the oldest in the UK and is extremely restricted in its facilities and development. A new hospice for Norfolk will bring the county in line with the services EACH offers in Essex, Cambridgeshire and Suffolk.
The Duchess of Cambridge has played an active role in the campaign and introduced ceramics manufacturer Emma Bridgewater to EACH and suggested a range of mugs could be designed to support the fundraising campaign.
The Duchess also met Jack Cottis, six, from Colchester, who suffered a brain haemorrhage in the womb and has a range of associated conditions, including blindness. He uses EACH's Treehouse hospice in Ipswich.
His mother Tracy Cottis, 48, is a patient trustee at the charity. She said: "I met Kate when she visited Ipswich and her passion for the charity is clear for all to see."
The Duchess of Cambridge has been patron of EACH since 2012 – one of the first four Royal patronages Her Royal Highness took on following her marriage in 2011.
The Duchess's support of EACH reflects her personal response to this very moving issue, where she hopes her continued support will make a difference.
The Duchess of Cambridge has spent part of her time on overseas tours focusing on issues that are of importance to her and where she feels she can make a real difference.
In September 2012, Her Royal Highness visited Malaysia with her husband on behalf of the British Government in celebration of The Queen's Diamond Jubilee, where they spent an afternoon at Hospis Malaysia, which is a leading hospice located in central Kuala Lumpur, to learn more about how the hospice movement works in Malaysia.
The Duchess of Cambridge continued this tradition during the overseas tour of New Zealand and Australia in 2014. She visited the Rainbow Place in Waikato, New Zealand, and Bear Cottage in Sydney, Australia where she met families and gave a speech.
Source: DukeAndDuchessOfCambridge.org