The Make-A-Wish Foundation of Greater Los Angeles rang in the holiday season with the chapter's second annual Wishing Well Winter Gala on Wednesday, December 3rd at the Beverly Wilshire Hotel.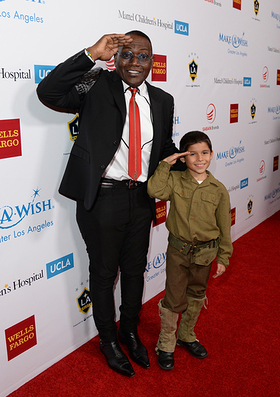 Hosted by Randy Jackson, the star-studded event featured a cocktail reception, dinner and awards program that honored Landon Donovan with the Shining Star Award, Wells Fargo with the Philanthropic Leader award, Saban Brands with the Power of a Wish Award, and Mattel Children's Hospital UCLA with the Medical Visionary Award.
Make-A-Wish grants the wishes of children with life-threatening medical conditions to enrich the human experience with hope, strength and joy. According to a 2011 U.S. study of wish impact, most health professionals surveyed believe a wish-come-true can have positive impacts on the health of children. Kids say wishes give them renewed strength to fight their illnesses and their parents say these experiences help strengthen the entire family. The Greater Los Angeles Chapter celebrates its 31st year and has granted more than 8,700 wishes to local wish children between the ages of 2 ½-18. With the help of generous donors and more than 25,000 volunteers, the network of Make-A-Wish chapters grants a wish every 38 minutes somewhere in the country. It has granted more than 226,000 wishes since its inception in 1980; more than 14,000 in 2014 alone. Visit Make-A-Wish Greater Los Angeles at la.wish.org to learn more.