The Bill of Rights is no joking matter, except when some our nation's funniest comics come together to celebrate, honor, and raise awareness of the freedoms and principles laid out in this all-American document.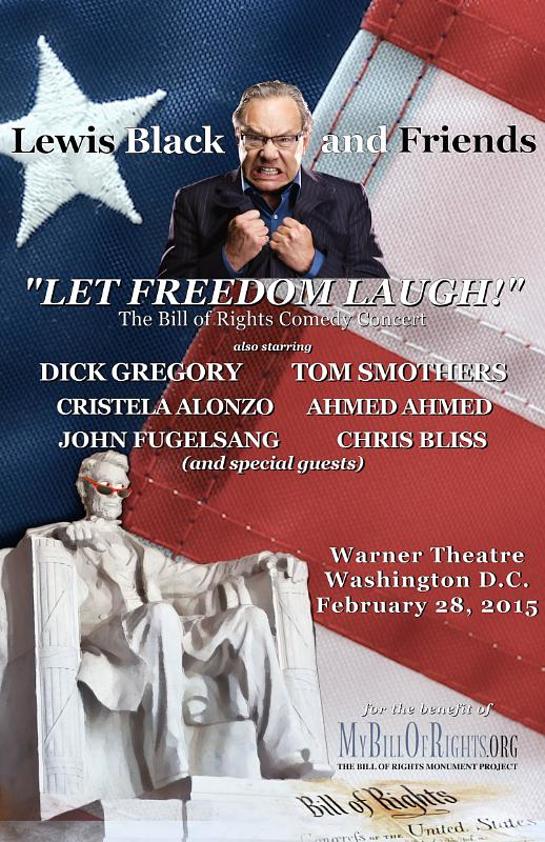 On February 28, 2015 at The Warner Theatre in Washington DC a powerhouse group of the nation's most influential comedians will come together for "Let Freedom Laugh," a very special night of comedy to be recorded for television and radio. Headlining the event is Lewis Black who will be joined by comedy legends and up-and-comers including Dick Gregory, Tom Smothers, Cristela Alonzo, Ahmed Ahmed, and John Fugelsang, along with other celebrities to be announced.
The event was conceived by MyBillofRights.org (The Bill of Rights Monument Project), which has the unique mission of creating a permanent legacy of monuments and displays of the Bill of Rights in civic spaces across America, beginning with all 50 State Capitols. The first comedy event by MyBillofRights.org led to America's first monument celebrating the Bill of Rights, dedicated at the Arizona Capitol in Phoenix in 2012. The organization's goal is to elevate the Bill of Rights to its rightful place of prominence in our public square, as a clarion call to the generations that follow to pay heed to America's founding legacy of liberty.
Asked about his involvement, Lewis Black said: "I am doing this because from what I have seen in the news from time to time, it seems that some folks in America need a little bit of a reminder of what our founding fathers really said. Because those words in The Bill of Rights are important. And it's going to be nice to see the cornerstone of our democracy on real stone. It also seems like a good idea to put these monuments someplace prominent like our State Capitols, where the politicians can go read it again when necessary."
James Madison devised the first ten amendments to the new Constitution to secure permanent constitutional protection for individual liberties. Now, over two centuries later, we find ourselves in a time when too many people have forgotten, or worse never even learned about the importance of our founding documents, and the brilliant ideas this country was built upon. And it's no wonder. We've grown from a small country of a few million citizens to a great nation of over 300 million. We're a far different people, living in a far different world from those who founded this country, which is exactly why now is the time to renew the promise of who and what we are as Americans, and replant the seeds of that greatness embodied in our Bill of Rights.
MyBillofRights.org founder Chris Bliss notes: "Every year we honor our veterans at countless monuments and memorials, in every corner of our nation. We recognize and commemorate the sacrifices they made and make for our freedom, as well we should. It seems only fitting then – and long overdue – that we as a nation also celebrate the great document – the Bill of Rights – that the freedoms and principles at the heart of our democracy flow from."
"Let Freedom Laugh" will be produced by Mark Krantz of entertainment and television company Mark Krantz Productions, Michael Jensen of public relations and management firm Jensen Communications, Inc., and American stand-up comedian and variety artist Chris Bliss. It will be co-produced by Tisha Fein, a producer and talent executive of The Grammy Awards for over 30 years.
To purchase tickets, click here.

The Mansion on O Street and MUMM Napa have signed on as initial sponsors.
Source: PR Newswire