Scandal's First Lady Mellie Grant won't let anything get in the way of her ambition, but the actress behind Mellie, Bellamy Young, has a big soft spot for shelter pets.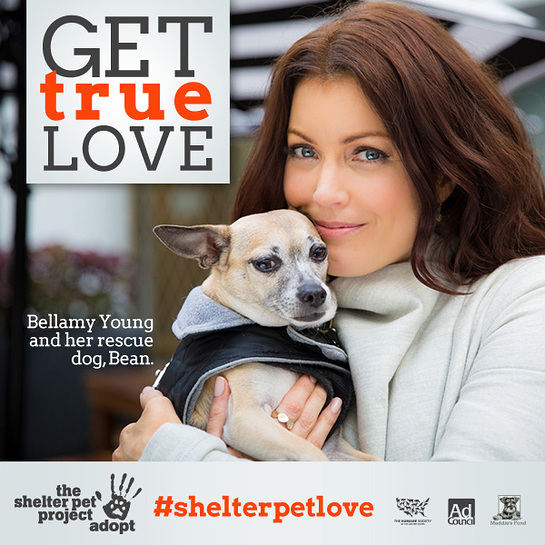 Young, her rescued cat, Sadie, and dog, Bean, are the stars of a new online video in the "Meet My Shelter Pet" series from The Shelter Pet Project. A campaign of The Ad Council, The Humane Society of the United States, and Maddie's Fund, The Shelter Pet Project showcases the unique bonds between shelter pets and their adoptive owners, and reminds viewers there are thousands of amazing shelter pets ready to meet them.
"I am so honored to be a part of this campaign and to be able to share the joy that Bean and Sadie bring to my life," said Bellamy Young, star of ABC's Scandal. "I'm proud to encourage folks to explore the wonders of adopting a new furry family member, and I hope as many animals as possible find their forever homes with some help from this video. Shelter pets are the most loving, loyal companions imaginable, and we are lucky to share our lives with them. Just when you think you're saving them, they save you right back."
The Shelter Pet Project is a national public service campaign that has helped positively change the perception of shelter pets.
"Bellamy shows us that it's no scandal to adopt a shelter pet. We hope her story inspires animal lovers nationwide to adopt their next pet from a shelter or rescue," said Betsy McFarland, vice president of The HSUS.
Shelter pet adoptions are on the rise in the United States, with the American Pet Product Association reporting that 35 percent of dogs and 43 percent of cats in American homes today came from shelters or rescue groups. However, 2.4 million healthy and treatable pets still need to find loving homes each year. The Shelter Pet Project's goal is to bring that number down to zero.
"We believe this is the year we will guarantee all of our healthy and treatable companions a loving home. The finish line is in our grasp and stories like Bellamy's highlight the love and joy a shelter pet brings to one's life," said Maddie's Fund president Rich Avanzino.
"The power of this campaign comes from real stories," said Lisa Sherman, President and CEO of the Ad Council. "By getting adoptive families to share their positive, loving experiences with their shelter pets, we will encourage more people to visit their local shelter or rescue group and consider adopting. This video is a poignant extension of our long-term efforts."
To view the videos or for more information about The Shelter Pet Project, visit TheShelterPetProject.org.