The Duchess of Cornwall was given a live tai chi demonstration as she spent time meeting cancer patients at a dedicated support centre in Newcastle.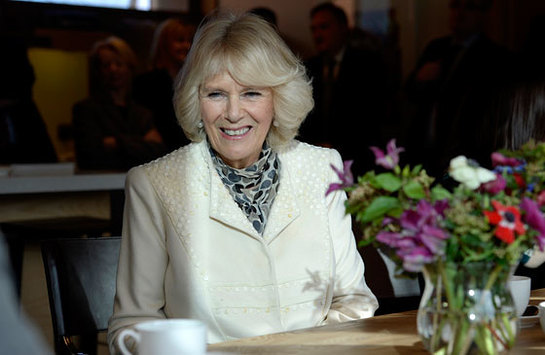 Her Royal Highness paid a visit to Maggie's, which offers emotional and practical support to people with cancer.
She was shown round the centre and met architect Ted Cullinan, who designed the building, who told her that the centre was of particular importance to the male users that come as "northern men struggle to express their emotions".
The Duchess also received a tai chi demonstration and spent time speaking to people who use the centre.
Unveiling a new piece of art for the building, she said: "I feel I have been in on this project from the very beginning.
"It's wonderful and so uplifting and such a happy place. It brings everyone together, families and children, and they can all come and get the experience.
"Thank you so much for having me."
She also said she eventually hoped to see a Maggie's centre in every major city across the country.
The national charity, which The Duchess became President of in March 2008, opened its first centre in 1996 and now has 18 centres.
Last year the Newcastle centre, which is next to the Freeman Hospital, had over 16,000 visits and of that figure, 6,000 were men.
Laura Lee, Chief Executive of Maggie's, said: "I'm honoured to have welcomed Her Royal Highness to Maggie's Newcastle. We're incredibly grateful for her continued support and the difference it makes to those who visit and work in our centres."
Following her visit to the cancer centre she was taken to Seven Stories, the National Centre for Children's Books.
It is the only place in the UK dedicated to the art of children's books and received over 80,000 visitors a year.
There The Duchess met staff and children that use the museum and was shown round the various spaces and exhibitions.
Her Royal Highness is an avid reader herself and a keen supporter of literacy charities, being Patron of a few that work to promote literacy for everyone.
Last week, The Duchess launched the BBC Radio 2 500 Words short story writing competition for children, with radio presenter Chris Evans.
And The Duchess rounded off her visit to the North East by being shown round the Laing Art Gallery, where she was shown a number of never seen before paintings, including one of herself.
Source: www.princeofwales.gov.uk