Thomas A. Rizk, Linda Rizk, and Geoffrey Rizk of Rizk Ventures, LLC and Alonzo Mourning and Tracy Wilson-Mourning of the Mourning Family Foundation co-hosted "Zo's All-Star Weekend Groove with a Purpose," a "FUNraiser" on Thursday February 12th, 2015.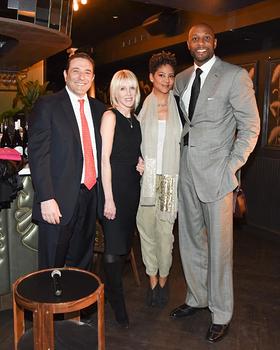 The event kicked off the National Basketball Association's All-Star Weekend. Proceeds from the event benefited the Mourning Family Foundation's programs and services that support underprivileged youth.
"We were excited to co-host this amazing event and team up with Alonzo Mourning and Tracy Wilson-Mourning again," said Linda Rizk, Co-Founder of Rizk Ventures. "The night was a great success and the money we raised will make a huge difference in the lives of underprivileged children."
The evening included a roundtable discussion titled: The "Power of Influence Through Sisterhood" moderated by Tracy Wilson-Mourning, Gayle King (co-anchor of CBS This Morning and Editor at Large for O, The Oprah Magazine) and musician MC Lyte. The conversation highlighted the empowerment of women that Honey Shine, Inc., a mentoring organization under the Mourning Family Foundation umbrella, provides to girls by encouraging education, advocacy, and leadership.
"Our event brought together individuals of influence to celebrate All-Star Weekend and, more importantly, to give back to our community and discuss the powerful impact we can have nationwide," said Tracy Wilson-Mourning. "We are so fortunate to have young brilliant business minds like Geoffrey Rizk and his family, Tom and Linda and Alexandra, who have committed to supporting us in our endeavors. Their work with our organization has been invaluable."
"We have been long time supporters of Alonzo and Tracy because they have worked tirelessly to champion the needs of children, a core component of our philanthropic efforts at Rizk Ventures," said Geoffrey Rizk, Managing Partner of Rizk Ventures.
"Alonzo and Tracy have had a profound effect on the communities they serve," stated Klaus Lederer, Managing Partner at Rizk Ventures. "We applaud their efforts and will continue to support these organizations as our business grows domestically and internationally."
Source: PR Newswire