Last week, Barnard College and President Debora L. Spar hosted Queen Noor of Jordan, Nobel Peace Prize Winner Leymah Gbowee, CARE USA CEO Helene Gayle, President of Goldman Sachs Foundation and Founder of 10,000 Women Dina Powell, New York Commissioner for International Affairs Penny Abeywardena, and more than a dozen other women leaders from around the world at Barnard College for a series of discussions centered on urgent questions about women's equality and leadership worldwide.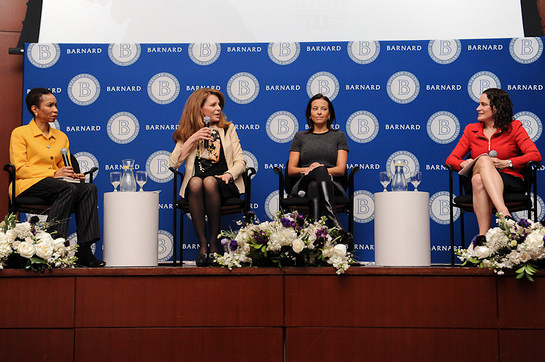 Barnard College's 7th Annual Global Symposium — which has gathered women leaders in Beijing, Dubai, Johannesburg, Mumbai, Sao Paulo, and Shanghai — was held in New York City for the first time this year in celebration of the College's 125th Anniversary. The event coincided with the United Nations Commission on the Status of Women Beijing +20 Summit in New York, where thousands of government officials, advocates and experts gathered to review progress in gender equality and women's empowerment.
"This symposia series exists to explore the ways in which women are leading efforts and igniting change at every level and in every corner of the world, and to consider the barriers and triumphs that have influenced their lives and careers along the way," said Barnard President Debora Spar.
Additional speakers included Kiran Bedi, activist and India's first and highest-ranking woman police officer, India; Robin Morgan, best-selling author, poet and political theorist, USA; Maria Cristina Frias, columnist for Folha de Sao Paulo, Brazil; Gillian Tett, U.S. managing editor for Financial Times, USA; Mamphela Ramphele, activist and former managing director of the World Bank, South Africa; Wu Qing, founder of the Women's Studies Forum, Beijing Cultural Development Center for Rural Women, China; Ndidi Okonkwo Nweneli, founder of LEAP Africa, Nigeria; Xing Danwen, photographer, China; Panmela Castro, founder of NAMI Network, Brazil; Jessica Greer Morris, playwright and executive director of Girl Be Heard, USA; and Ahdaf Soueif, novelist and activist, Egypt.
For more information, visit www.barnard.edu.
Source: PR Newswire