By Tim Saunders on
Classic rockers Crooked Sausage have launched a new initiative to ensure all garden gnomes have sufficient facial hair to withstand the changing climate.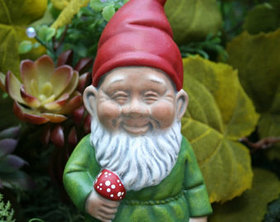 Guitarist Trevor Smith and the late Barry Lithium-Battery held a press conference in London yesterday to launch the new campaign, Hairy Gnomes Are Happy Gnomes.
"They get cold lips," commented Smith, whose own beard was once voted Best In Show at Crufts. "And then their skins turn blue, which can lead to all sorts of copyright issues."
While most garden gnomes are born with some form of facial hair, a small percentage grow up without any form of insulation on their funny little faces. This can lead to social isolation and unemployment.
"Most gnomes like to sit around your garden, maybe catch some fish in your pond, maybe smoke a pipe," said Smith. "But nobody wants a gnome with no beard. And when a gnome is unemployed, he becomes bored. And a bored gnome may turn to gnome crime, which is just like normal crime but with gnomes… see wha' I mean?"
To combat the problem, the remaining members of Crooked Sausage are asking for donations to buy glue and cotton candy to stick to the faces of needy gnomes around the world.
"We're also currently looking for volunteers interested in sticking the stuff to the little buggers, cos we're busy," said Smith.
Drummer Rodney von Gluck was absent from the press conference, after suffering a fatal spelling mistake late last year. Bassist Roger Ed Dayley was also not present – the award-winning musician fell down a hole in 2001 and still hasn't managed to climb out. Singer Barry Lithium-Battery refused to comment, having died in 1992.
The band is also considering releasing a charity single to raise money for the cause, but probably won't.