Helen Keller International (HKI), a leading global nonprofit organization dedicated to fighting the causes and consequences of preventable blindness and malnutrition, continued its year-long Centennial Celebration with the 2015 Spirit of Helen Keller Gala on Monday, May 18, 2015.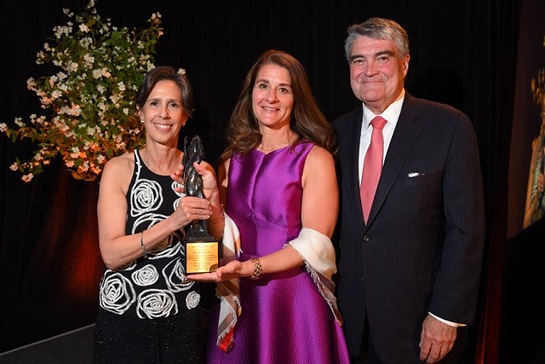 The event raised more than $1.5 Million in support of its sight- and lifesaving efforts in in 21 African and Asian countries, and in the United States.
The sold out event hosted 400 supporters at the New York Public Library in New York City in celebrating the landmark anniversary, as well as two of the organization's many prestigious partners in the fight against preventable vision loss and malnutrition.
Melinda Gates accepted The Spirit of Helen Keller Award, on behalf of herself and husband, Bill Gates, for their transformational leadership, efforts in reducing malnutrition and hunger, and focus on empowering women as co-chairs of the Bill and Melinda Gates Foundation. The award was established in 1959, during Helen Keller's lifetime, to honor those whose work embraces the legacy of courage and promise of our founder.
"One of my favorite Helen Keller quotes is 'Alone we can do so little. Together we can do so much.' And the proof is this great organization that has brought us all together and done so much over the course of 100 years," Gates said. "It is an honor to receive an award from an organization that has taught me so much, and I am humbled to be associated in any way with the spirit of Helen Keller."
Bill Gates, who was not able to attend, also shared a special message to HKI via a pre- recorded video. "Helen Keller International is one of the most innovative and important organizations in the field of health. Our Foundation is proud to partner with you on some breakthrough initiatives."
Dr. David Nabarro, United Nations Secretary-General Special Envoy on Ebola and Special Representative for Food Security and Nutrition, was honored with the Helen Keller Humanitarian Award in recognition of his tireless efforts to position malnutrition as a central issue within the development dialogue, and to ensure an effective response to the recent Ebola crisis in West Africa.
"I first encountered Helen Keller International when I was working in Nepal several decades ago and saw, first hand, how exemplary their approach to nutrition is," he said in accepting the award. "HKI has remained steadfast in its commitment to help the world's most vulnerable by designing programs that can be owned and sustained by the people it serves. I am honored to receive this prestigious award from an organization that has helped millions of families."
"On this – our centennial anniversary – we are full of hope and optimism for the future as we have made great progress in the fight against avoidable vision loss, malnutrition and disease, although we know there is more to be done" said HKI President and CEO, Kathy Spahn. "We are thrilled and privileged to celebrate this incredible milestone with wonderful partners like Bill and Melinda Gates and David Nabarro, whose dedication and generosity have been crucial in helping to build a healthier, brighter future for those most in need."
Karin and Henry Barkhorn, D. Brooks Betts, and Desmond G. FitzGerald served as Gala Co-Chairs. Kate Ganz has led the year-long anniversary celebration as Centennial Chair.
Other guests included Bruno and Véronique Bich; Ambassador David Donoghue, Permanent Mission of Ireland to the United Nations; Geoffrey and Sarah Gund; Charles Merrill, Managing Director, Citi Private Bank; Iman Oubou, Miss New York; Felipe Martins and Luis Robles, New York Red Bulls; Bradford Perkins, Principal, Perkins Eastman Architects; Douglas Peterson, President & CEO, McGraw Hill Financial; Guillermo E. Rishchynski, Ambassador and Permanent Representative of Canada to the United Nations; Zygi and Audrey Wilf, Principal Owners of the Minnesota Vikings; Anthony Walton, Vice Chairman, Americas, Standard Chartered Bank.
Helen Keller International was founded in November 1915 by a then 35 year old Helen Keller, already a renowned advocate for the disabled, and George Kessler, a wealthy New York City wine merchant who survived the sinking of the Lusitania, to help soldiers blinded during World War I. Today, nearly 300 million people benefit from Helen Keller International's 180 programs in 21 African and Asian countries, as well as in the United States.
Central to the organization's work is its continuing focus on preventing blindness and vision loss for millions of vulnerable people in the world's poorest communities by providing cataract surgery, vision correction, vitamin A supplementation, screening and treatment for diabetic retinopathy, and treatments for Neglected Tropical Diseases. HKI is also dedicated to reducing malnutrition through vitamin A supplementation, fortification of staple foods with essential nutrients, homestead food production, and community based management of acute malnutrition. HKI also reaches thousands of underserved youth in the United States each year through ChildSight. This unique program provides free vision screenings and prescription eyeglasses to students living in poverty in New York, New Jersey, Connecticut, Ohio, and California.