In celebration of Adopt a Cat Month, beloved animated cat and international icon Garfield has joined The Shelter Pet Project in several new videos and sharable graphics to show the love and joy that shelter pets bring to their owners' lives.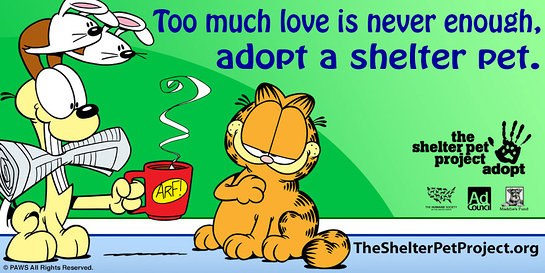 In the new public service ads (PSAs), characters Garfield and Odie encourage audiences to visit TheShelterPetProject.org to meet cats and dogs available for adoption at local shelters and rescue groups.
Garfield and Odie have been beloved fixtures in popular culture since 1978, when the cartoon debuted in 41 newspapers. Today, the famous fat cat is featured in 2,100 newspapers and is the star of the world's most widely syndicated comic strip. Garfield and Odie have gone on to also star in books, on TV, and even in musicals over the years.
"Who better to champion the need to visit a shelter than Garfield?" said Garfield creator and CEO of Paws, Inc. Jim Davis. "Everyone here at Paws, Inc. is so honored to be a part of this initiative. I hope that Garfield can encourage a whole new generation to visit their local animal shelter or rescue group. Who knows, there might be a Garfield or an Odie waiting for them."
June marks a particularly active time for shelters and rescue groups, as it's the peak of kitten season, when thousands of newborn homeless kittens join other cats available for adoption across the United States. There are cats for every personality in shelters and rescue groups right now, and with each adoption, the number of healthy and treatable pets who lose their lives in shelters each year declines. Currently, about 2.4 million pets still need to find a home each year. The Shelter Pet Project's goal is to bring that number down to zero.
"Every shelter pet deserves a loving family, and every loving family deserves an amazing shelter pet," said Michael Markarian, Chief Program and Policy Officer for The HSUS. "We are thrilled to have the support of Garfield and Odie in urging families to make shelters and rescue groups their first stop when bringing a beloved new four-legged friend into their home."
The videos feature Garfield talking directly to the screen encouraging viewers to go online and see what shelter pets are available in their area. In addition to the videos, the Paws, Inc. team has created a series of animated social graphics depicting Garfield and Odie asking viewers to visit the Shelter Pet Project website. At TheShelterPetProject.org, prospective adopters can browse through a database of dogs and cats available for adoption in their area and learn more about misconceptions around shelter pet adoption as well as about the process of adopting a pet.
"If just a small percentage of those looking to acquire a pet in the next year choose to adopt, we can end the euthanization of all healthy and treatable pets across the U.S," said Rich Avanzino, President of Maddie's Fund. "Thanks to Garfield, millions of people can see the joy – and laughs – that come with sharing their lives with pets. We couldn't ask for a better friend to support our campaign."
"The Shelter Pet Project is one of our most beloved campaigns and it has helped countless pets find loving homes and families. This partnership with Paws, Inc. and Garfield will only enhance our message," said Ad Council President and CEO Lisa Sherman. "Garfield has been an iconic and treasured figure for generations of children and families and he will be such an influential advocate for shelter pets across the country. We are hopeful that he will be able to reach and inspire new audiences."