Dr. Jane Goodall, DBE, a U.N. Messenger of Peace and Ambassador for the Great Apes Survival Partnership (GRASP), planted a tree to mark over 50 years of commitment to conservation and the environment in a ceremony on 15 July at the United Nations of Nairobi (UNON) compound in Nairobi, Kenya.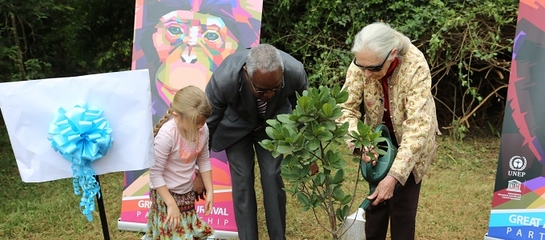 Later, Dr. Goodall took part in a one-hour GRASP webcast to discuss great ape conservation issues with participants from around the world.
Dr. Goodall, 81, was visiting Kenya on the 55th anniversary of her chimpanzee research in Tanzania's Gombe Stream National Park. Her ground-breaking discoveries – including the use of tools by chimpanzees and their social and cultural bonds – revolutionized wildlife research, and she is the founder of the Jane Goodall Institute.
"GRASP is honored to welcome Jane Goodall to the United Nations compound here in Kenya," said GRASP coordinator Doug Cress. "Her life-long commitment to making the world a better place – not just for chimpanzees or other great apes, but for all human and animal inhabitants of this planet – is an inspiration. She is truly dedicated to ensuring the long-term future of us all."
Dr. Goodall is currently promoting her latest book, Untamed: The Wild Life of Jane Goodall, which looks back over her half-century of research and conservation. And although the 50-year study of chimpanzees in Tanzania's Gombe National Park remains central to her mission, she now speaks to issues such as illegal trade in wildlife, climate change, and food security.
Dr. Goodall has received dozens of honors, including the Tyler Prize for Environmental Achievement, the French Legion of Honor, the Medal of Tanzania, Japan's prestigious Kyoto Prize, the Benjamin Franklin Medal in Life Science, the Gandhi-King Award for Non-violence and the Spanish Prince of Asturias Awards.
Dr. Goodall is one of five GRASP Ambassadors – along with Richard Leakey, Russell Mittermeier, Nadya Hutagalung, and Richard Wrangham – and she spends over 300 days on the road each year promoting messages of hope and environmental stewardship.
GRASP is a unique alliance of 100 national governments, conservation organizations, research institutions, United Nations agencies and private companies committed to ensuring the long-term survival of great apes and their habitats in Africa and Asia. For more information, please visit www.un-grasp.org or contact grasp@unep.org.
Source: UNEP