This summer global superstars The Vamps are offering the chance for one lucky fan to make their dreams come true, with an invitation to meet the band and share their spotlight as part of a prize draw to support Stand Up To Cancer.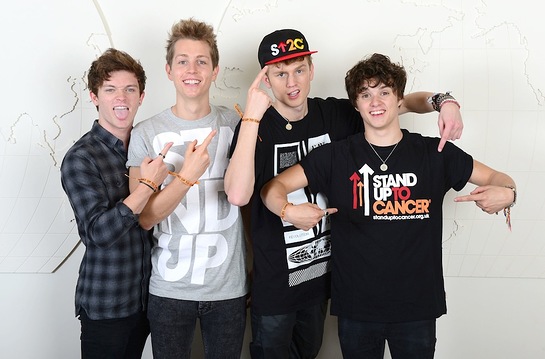 The winner will be invited to join The Vamps as they take a break from their world tour and hang out with the teen heartthrobs on the set of their new music video, witnessing the making of their next big hit. The prize also includes flights to and from the location of the set from anywhere in the world, and accommodation.
This once-in-a-lifetime opportunity to meet Brad, James, Connor and Tristan will help raise money for Stand Up To Cancer, a joint national fundraising campaign from Cancer Research UK and Channel 4, designed to accelerate new cancer treatments to patients and save more lives.
To be in with a chance of winning, visit prizeo.com/the-vamps. Each donation of $25 buys five entries in the draw and helps support vital cancer research. Fans can also scoop a limited number of exclusive rewards by donating to the cause, including drum skins signed by The Vamps ($300), a signed guitar ($650), and a personal phone call from the boys ($750).
Brad Simpson, lead singer and guitarist in The Vamps, said: "Stand Up To Cancer's an amazing campaign that will make a difference to so many people by raising vital funds that will help get treatments to patients faster. We wanted to give a really special prize to help raise as much money as possible and we hope our fans will enter the draw and join us as we Stand Up To Cancer!"
A video from The Vamps explaining why they're Standing Up To Cancer this year, including details of the prize, can be found here. To purchase merchandise modelled by the band shop online at standuptocancer.org.uk. Selected items will also be available from Cancer Research UK shops across the country from September.
Claire Rowney, director of Stand Up To Cancer, said: "Having support from The Vamps will give a huge boost to our fundraising and it's a great way to engage their devoted fans with Stand Up To Cancer's work to beat cancer sooner.
"We've made amazing progress against cancer in the past few decades but one in two of us in the UK will develop cancer in our lifetime so we can't afford to stand still. Cancer is a complex disease – there are more than 200 types and thousands of subtypes, that's why funding more research is vital."
Launched in 2012, Stand Up To Cancer's fundraising total has so far reached over £23.8m to fund clinical trials across the UK.