Academy and Grammy Award winning artist Jennifer Hudson and sister Julia Hudson help celebrate the Julian D. King Gift Foundation's Hatch Day with support from Staples for Students and the Entertainment Industry Foundation.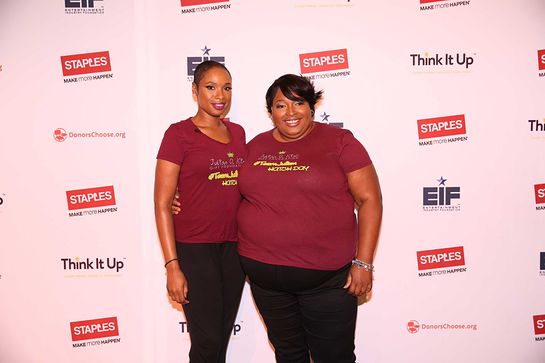 Staples, Inc. announced that it funded 115 local classroom projects in Chicago, as part of its recent $10 million pledge to Think It Up, a new national initiative of the Entertainment Industry Foundation that seeks to inaugurate a new movement in support of students, teachers and schools, helping to create a culture of excitement about learning everywhere in America. This fall, Think It Up, in partnership with DonorsChoose.org, will launch a platform to fund student-powered, teacher-led learning projects in classrooms across the country.
In addition to flash funding 115 STEM projects on DonorsChoose.org, Staples for Students and the Entertainment Industry Foundation helped fund school supplies for thousands of students in honor of Hatch Day and Jennifer's nephew Julian D. King.
"Since its inception, Hatch Day has always been about celebrating Julian and honoring his passion for learning by providing families in need with basic school supplies, allowing those children to share his love for education," said Jennifer Hudson, co-founder with her sister Julia of the Julian D. King Gift Foundation. "I'm so grateful to Think It Up and Staples for joining us in this mission and providing essential tools to teachers and students of Chicago to excel."
Since its founding in 2000, DonorsChoose.org has helped fund more than 236,000 classroom projects for teachers and impacted more than 14 million students. Today, in Chicago, Staples fully funded every STEM project on DonorsChoose.org in the Chicago Public School District. STEM education creates critical thinkers and enables the next generation of innovators. More than $95,000 was donated to help 96 teachers fulfill classroom needs and reached 12,037 students across 59 schools in the Chicago Public School District.
"We're thrilled to fund 115 STEM projects in the Chicago Public School District and to work with the Entertainment Industry Foundation's Think It Up initiative and DonorsChoose.org to ensure classrooms have the supplies and resources they need," said Alison Corcoran, senior vice president, North American stores and online, Staples. "Through our Staples for Students program, we're proud to build on our rich history of supporting education with our $10 million pledge that will make a difference in America's classrooms."
A recent survey conducted by Staples found almost three-quarters of parents agree that teachers in their communities inspire their students. Additionally, the survey revealed that 76% agree that a lack of school supplies is a significant challenge for schools today. Most teachers spend more than $400 of their own money each year to provide supplies and materials for their classrooms.
"We are so grateful to Staples for their support of teachers and students through Think It Up," said Charles Best, founder and CEO of DonorsChoose.org. "Their incredible gesture today will ensure that Chicago teachers won't have to dig as deep into their own pockets to pay for classroom supplies, and that students will have the materials they need to start the school year right."
The flash funding in Chicago is part of Staples' $10 million pledge to Think It Up which will inspire students to pursue their passions by working on collaborative learning projects. To help support the Think It Up movement, customers can donate one dollar at a Staples store near them or visit www.thinkitup.org to learn more.
"Think It Up is excited to collaborate with Staples in helping Jennifer continue Julian's love of education by providing support to students and teachers in Chicago. EIF is grateful to Staples for joining Think It Up as its lead corporate donor, and helping the Chicago Public School District get the school year off to a terrific start illustrates how deeply committed the company is to ensuring students and teachers have what they need to create learning experiences that make a genuine impact and prepare students for future success," said Lisa Paulsen, President and CEO of the Entertainment Industry Foundation.
Win a $50,000 Scholarship and VIP Red Carpet Experience
Fans can enter the #StaplesforStudents sweepstakes for a chance to win a $50,000 scholarship and a VIP Red Carpet Experience. Fifty lucky winners will fly to Los Angeles with a friend to attend a star-studded Think It Up event. One lucky grand prize winner will win the trip to Los Angeles and a $50,000 scholarship.
Visit www.staples.com/scholarship to learn about different ways to earn entries and increase chances of winning, including making an in-store purchase, sending a tweet, signing up for e-mail and more. Entries must be submitted before 11:59PM ET on Aug. 22 and participants must be 13 years or older.