Singer and TV star Brian McFadden shows off his softer side in a new PETA campaign in which he's cuddled up to his lovable pup Winston.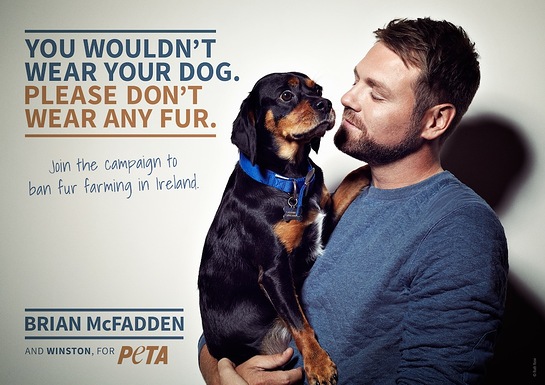 In the ad, he urges fans to join him in swearing off fur and calling for a ban on fur farms in Ireland.
"Fur farms are hell on Earth for animals", says PETA Associate Director Elisa Allen. "We're grateful that Brian McFadden has teamed up with PETA in calling on Ireland to join the UK, Croatia and Austria in refusing to allow animals to be electrocuted for the sake of coats and collars."
As exposed by PETA – whose motto reads, in part, that "animals are not ours to wear"- animals on fur farms are confined to cramped, filthy cages before they are drowned, beaten, strangled, electrocuted and sometimes even skinned alive in order to produce fur coats, collars and cuffs. Imprisoning animals in cramped wire cages- often for their entire lives- denies them the opportunity to engage in natural behaviours such as hunting, playing and swimming.
Former Westlife star McFadden joins a growing list of celebrities – including Imelda May, Anjelica Huston and Cillian Murphy – who have partnered up with PETA, whose motto reads, in part, that "animals are not ours to wear", to speak out against fur farming in Ireland.
For more information or to join the nearly 40,000 PETA supporters who called on Ireland's Minister for Agriculture, Food and the Marine to ban fur farms, please visit PETA.org.uk.