Star Wars legend Mark Hamill visited patients at Great Ormond Street Hospital (GOSH) this week.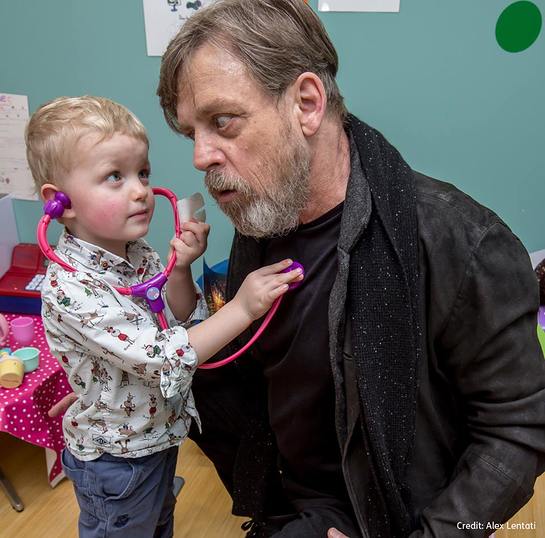 Hamill, who played Luke Skywalker in the legendary films, was visibly moved on a visit to the hospital where he met dozens of patients and staff including four-year-old Jake, from Barnet, who recently had a kidney transplant.
As he handed out presents on the wards, he called on readers of the Evening Standard to donate to their Give to GOSH appeal.
He said: "One of the greatest things I am given, because of the profession I am in, is the ability to give back. It feels wonderful. It can be harrowing emotionally because your heart goes out to these children but it's also very uplifting. You walk away thinking that being an actor is so trivial compared to helping needy children."
Hamill said he chose to go to the hospital rather than appearing on the Graham Norton Show, which some of the Star Wars cast were filming during his visit on Thursday. "Rather than going on TV chat shows I would rather give back somehow by going to hospitals. I want to do more of that.
"Star Wars movies are meant to be a couple of hours of diversion from reality, and we need that. They are optimistic and hopeful stories. But in comparison to what we can do with this [the hospital], last night [the Star Wars premiere] is very trivial."
Hamill visited patients and their families as part of the Great Ormond Street Hospital Children's Charity's long-standing partnership with Disney.
To read more about Mark's visit, click here.
Source: GOSH