Prince's Trust Ambassadors Kelly Hoppen MBE and Dynamo have teamed up to create a magical new wallpaper collection.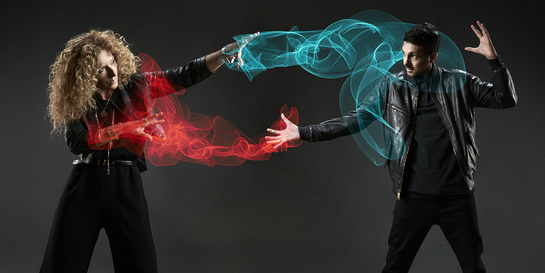 A percentage of the proceeds will be donated to The Trust.
The world-renowned designer, Kelly Hoppen, and Trust-supported magician, Dynamo, have created a distinctive range of illusion wallpaper, in collaboration with Graham & Brown.
Using the newest printing technology, realistic imagery and clever design, the pair have created an optical illusion of depth, which forms a sense of additional space within the home.
The collection will launch at the end of January and is available in two designs:
1. Enigma – a 3 dimensional effect giving protruding pillar effect
2. Paradox – which replicates an angled jutting wall of stone
"I was thrilled to work with Dynamo, creating a unique and exciting design for people to enjoy in their homes," said Kelly. "One of the reasons we wanted to work together is because we share the same vision to inspire young people to be creative and entrepreneurial."
Dynamo, who started his magical journey through the Trust's Enterprise programme, added: "I'm thrilled with the results and even more delighted that part of the profits will go to The Prince's Trust who were so key in helping me start my magical journey."
Source: Prince's Trust