The Russell Westbrook Why Not? Foundation continued its support of youth literacy with the unveiling of the 8th Russell's Reading Room today at Telstar Elementary School in Oklahoma City.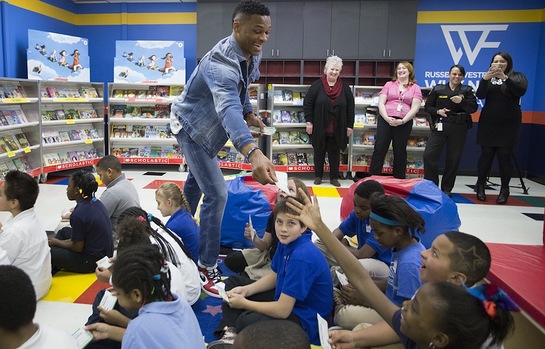 After the successful launch of his first reading room in 2014 in Oklahoma City, NBA star Russell Westbrook spent last year opening two more reading rooms in Oklahoma City and three in his hometown of Los Angeles. Russell has continued to inspire children to read in 2016 with this being the second Russell's Reading Room opening so far this year.
In addition to cutting the ribbon on the 8th Russell's Reading Room, the Why Not? Foundation and Scholastic hosted a book fair at Telstar Elementary School. Russell Westbrook presented Principal Vanessa VanTrease with a check covering the costs for every student to take a book home from the fair.
In an effort to expand its literary initiative, the Russell Westbrook Why Not? Foundation, in partnership with Scholastic, will now sponsor school-wide book fairs at every school that receives a reading room and make sure every child goes home with a book. Russell's Reading Rooms encourage education and reading in a safe learning environment and by bringing book fairs to schools the Why Not? Foundation is helping children build their own personal libraries and develop a lifelong love for independent reading.
"To open my 8th Russell's Reading Room is incredible and to also send every kid home with a book really makes me proud." Westbrook has always stressed the importance of education and creating a safe learning environment, and through the continuation of the Russell's Reading Room initiative he remains committed to providing a nurturing space for children to develop their reading skills at school and at home.