Dr Helen Pankhurst, great-granddaughter of suffragette Emmeline, Annie Lennox and Bianca Jagger led a mass walk through London on Sunday 6 March, ahead of International Women's Day.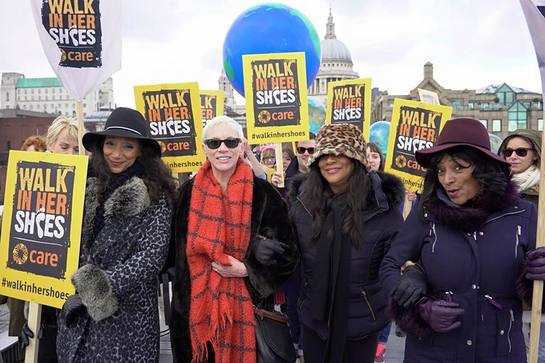 They were joined by crowds of supporters as they walked in solidarity with women and girls worldwide who endure inequality and injustice. The annual event launched CARE International's nationwide campaign, Walk In Her Shoes.
Supporters spent an unforgettable Mother's Day walking alongside a star line-up of outspoken feminists, including celebrities such as 'Suffragette' actress Romola Garai, director Sarah Gavron, comedian Bridget Christie and activists from around the world. They were joined by London's very own 21st century 'Olympic Suffragettes', who walked in traditional Edwardian costume to highlight the fact that the Suffragettes' goal of equal rights remains unrealised.
"In 2016 there are 757 million adults who cannot read or write a sentence – 2 out of 3 of these are women," said Annie Lennox. "Globally the leading cause of death of women of reproductive age is HIV/AIDS. Women around the world aged 15-44 are more at risk from rape and domestic violence than from cancer, car accidents, war and malaria.
"Whether the issues are education, health care or security – disempowered women and girls around the world face unimaginable challenges. There is still so much more to be done in terms of creating transformative change towards a fairer and more equitable world. That is why I'm joining the Walk In Her shoes, in solidarity with women and girls worldwide who bear the brunt of the burden of poverty."
The Mother's Day walk in London is the start of a nationwide Walk In Her Shoes campaign, which encourages people in the UK to raise money for CARE by walking 10,000 steps a day for one week in March. The charity's work includes providing clean water sources in poor communities, allowing girls and women more time to go to school or work instead of walking miles each day to collect water.