As the five-year mark for the Syrian war approaches, Cristiano Ronaldo – a Save the Children global artist ambassador since 2012 – is aiming to bring focus back to the children of the ravaged country, where life has continued to deteriorate for the most vulnerable.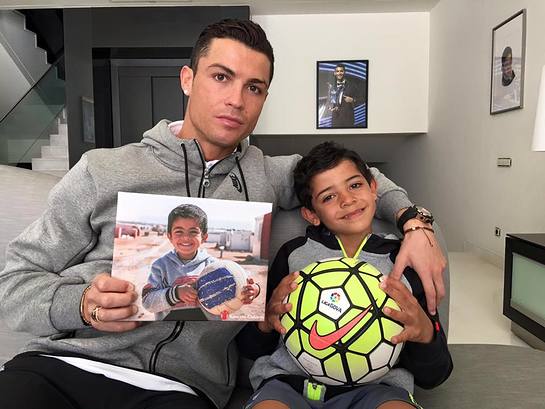 To show his support, the internationally renowned soccer player for Real Madrid posted to his social media channels a selfie with his 5-year-old son, Cristiano Ronaldo Jr., holding a photo of very special soccer-loving Syrian refugee boy, named Ayman, who is also five years old.
Born when the Syrian war began, life in a war zone took a devastating toll on Ayman, so much so, he did not speak – ever. He saw and heard things that no child should see, from armed men breaking down doors, to dead bodies lying in the street to sirens going off at all hours.
His family fled to the border of Jordan where they joined tens of thousands of Syrian families in the Za'atari refugee camp. Help finally came when Ayman's parents enrolled him in a Save the Children-supported kindergarten, called Little Hands, at the camp. There, he began to speak – through the help of a caring teacher, his supportive parents and a love of soccer that blossomed.
Play, such as soccer, is important for a child's development. It teaches children essential skills like how to count, how to solve problems and how to get along with others.
Ronaldo, who often posts photos with his son, wanted to use his social media megaphone to ensure that the world does not lose focus on the littlest victims of this war – the children. The mega-star recently reached 200 million social media followers, making him the most-followed athlete on a global scale.
"With a young son of his own, Cristiano Ronaldo understands how vulnerable children are at that age," said Carolyn Miles, president and CEO of Save the Children. "With Ronaldo's help, we can keep the focus on the children of the Syrian war, many of whom have known nothing but war their entire life. After five years of this conflict, we don't want the world to forget the children – they shouldn't have to pay the price for the world's inaction."
Ronaldo's selfie comes on the heels of Save the Children's new report "Childhood Under Siege," which was recently released ahead of the five-year mark of the war in Syria on Tues., March 15.
The report estimates that more than 250,000 children have been in constant fear for their lives for many months in Syria's besieged areas. Parents testify to not only dealing with the psychological impact on children terrified of explosions, but the dire consequences of being deprived of food, basic medicine and clean water.