Think It Up, the new initiative from the Entertainment Industry Foundation (EIF), joined Brooklyn Decker, Andy Roddick, Austin officials including Independent School District Superintendent Dr. Paul Cruz, and hundreds of local students and teachers on March 10th during SXSWedu for the second in a national series of Think It Up Live pitch competitions.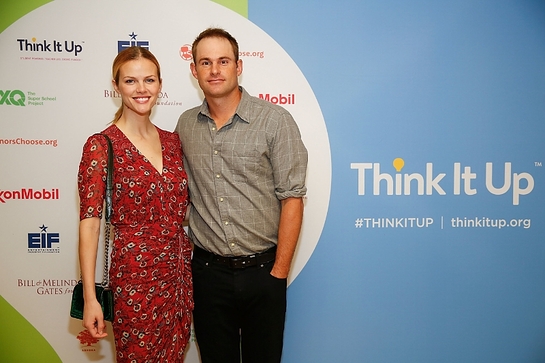 Alongside a panel and booth activation on-site at SXSWedu, the live pitch event was designed to empower students, celebrate teachers and build optimism about what's possible in America's classrooms. The event drew students and teachers from 24 traditional district and public charter schools in Austin.
Think It Up Live Brings Spirit of SXSW to Local Austin Students and Teachers

At Think It Up Live, student-teacher teams across Austin came together to pitch VIP judges and Austin-based husband/wife couple Andy Roddick and Brooklyn Decker on their innovative learning ideas. Roddick, the founder of the Andy Roddick Foundation and retired tennis star, and well-known "Grace and Frankie" actress Decker, listened as students put their best ideas forward at this science fair-meets "shark tank"-type event designed to promote empowered, engaged learning.
The winning team was selected from a group of 50 teams and came from Ann Richards School for Young Women Leaders, and received $1,000 to fund their project, which created a produce spoilage tracker to reduce food waste. All participating teams received $100 in funding credits to kick-start their projects.
All funding credits are applied once teachers will post projects at ThinkItUp.org – a first-of-its-kind platform available to all public school students and educators (grades 7-12) in partnership with DonorsChoose.org, the popular teacher crowd-funding charity. To help bring to life more student-powered, teacher-led projects, Think It Up covers half each of each proposals total cost by EIF's supporters, including Ashoka's Start Empathy initiative, ExxonMobil and the Bill and Melinda Gates Foundation, with the rest raised through crowd-funding.
The event follows the success of EIF's inaugural Think It Up telecast that aired in September, and first Think It Up Live event in Denver held in December.
Think it Up Debuts at SXSWedu

To spread awareness among education innovators, Think It Up participated in its first panel and expo at Austin's SXSWedu conference. The "Think Rethink: Crowdsourcing Innovation Panel" on March 8th featured Creative Artists Agency Chief Innovation Officer Michelle Kydd Lee as moderator of a discussion featuring Jennifer Golub from MAL/FOR GOOD and Hillary Moglen from XQ: The Super School and Mike Marriner for Road Trip Nation. The panel discussed the power of crowdsourcing to generate ideas, including how each organization defines the crowd and why is it important to bring broader, mainstream cultural attention to education in the United States.
At the SXSWedu convention center, the Think It Up booth brought the pitch competition to the expo, bringing to life the initiative's excitement for learning by inviting visitors to submit an idea to bring their learning in the classroom to life.