Han Solo returned to the big screen last December with Harrison Ford reprising his legendary role in "Star Wars: The Force Awakens." Now, fans can take home a piece of cinematic history with this rare offering from Finding a Cure for Epilepsy and Seizures (FACES), whose mission is to improve the quality of life for all those affected by epilepsy and seizures.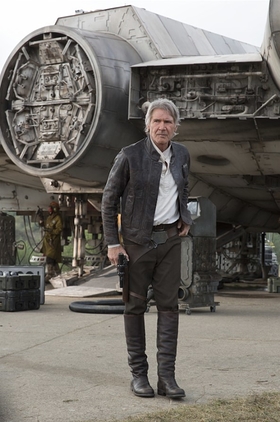 The jacket will be offered on premium experiential marketplace IfOnly, which will auction Han Solo's iconic leather jacket worn throughout the most recent Star Wars installment. The actor has signed this priceless leather jacket for one lucky fan, with bidding starting at $15,000.
Proceeds from the sale of this jacket will benefit NYU Langone Medical Center and FACES, whose mission of funding research for epilepsy therapies and providing support to the epilepsy community is personally close to Ford's. Harrison chose the charity in honor of NYU Langone's Dr. Orrin Devinsky, saying, "I've been very impressed with the work NYU and the FACES team have done in the field of epilepsy research, and I hope this jacket will provide some means to further that exploration. This is a cause that's near and dear to me, and unlike the cynical Han Solo, I've got a good feeling about this."
"We are thrilled and honored to be supporting such an incredible cause by featuring a piece of cinematic history. We've been lucky to support hundreds of causes, but this one is even more significant as it is so personal to Harrison," said Trevor Traina, CEO of IfOnly.
The auction begins on Monday, March 21, 2016, and ends on Monday, April 11, 2016, at 6pm EDT and can be found at IfOnly.com/HanSolo.