Manchester based actors Jamie Lomas and Anthony Quinlan are facing their fears by taking on a 240ft abseil in support of Royal Manchester Children's Hospital Charity.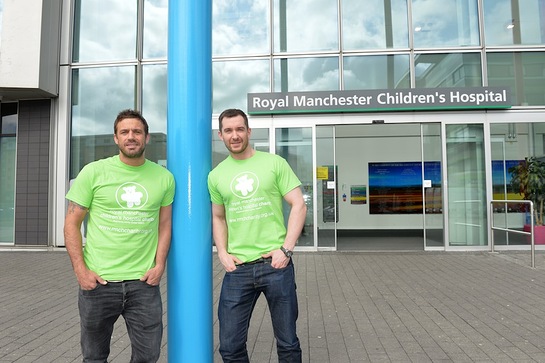 The 'Humphrey's Heroes' Abseil is the charity's first ever public abseil taking place on 23rd & 24th April and will see over 90 participants abseil down Liberty Living owned Liberty Heights in Manchester City Centre to help raise funds to support the charity's Helipad Appeal.
Best friends Jamie and Anthony will be kick-starting the fundraising event, being the very first participants to head over the edge, as they descend the building at Manchester's tallest abseil.
Jamie Lomas, who is about to return to Hollyoaks as Warren Fox, comments: "I am absolutely delighted to be taking part in this abseiling event for Royal Manchester Children's Hospital, and to do it with my best friend Anthony will make it such an amazing experience for us both. I feel it is extremely important to give something back, when you're in a position to do so. The Children's Hospital is such a great cause, one that I have supported in the past and will continue to do so in the future, if people can give whatever they can then that would be fantastic. Let's raise what we can for this helipad!"
Emmerdale heart-throb Anthony Quinlan adds: "I'm delighted to be involved in Manchester Children's Hospital's first ever abseil! It's going to be a great experience for a truly worthy cause. I'm full of admiration for the hospital and all the work that the charity do and I can't wait to be a part of it. It's certainly going to be a challenge but if I can tackle it with even an ounce of the bravery that the children and their families have who attend this fantastic hospital then I'll have done a great job."
All funds raised from the abseil will go towards the Charity's fundraising appeal to build a 24 hour access helipad on location at the hospital's Central Manchester site. Currently, the hospital relies on a secondary landing site in a local park, adding precious minutes to the transfer of an incredibly ill child. An on-site landing pad will help to dramatically reduce patient transfer times by up to two thirds and in turn will help to save lives and improve patient recovery.
Hannah Thomas, Events Manager for Royal Manchester Children's Hospital Charity, comments: "We are thrilled that Jamie and Antony are taking on the ultimate challenge of our Superhero Abseil in support of our Children's Hospital. As Manchester's tallest abseil this really is a hair-raising challenge, and not one for the faint-hearted, so we are very grateful to have their support. Jamie and Anthony's fundraising means a huge amount to our charity, and with less than a month to go we wish them both luck for the big day!"
To sponsor Jamie and Anthony visit their Justgiving page here: www.justgiving.com/JamieAnthonyAbseil.
There are a limited number of places left for the Sunday's Abseil. For more information and to register please visit: www.rmchcharity.org.uk/events/humphreys-heroes-abseil.
Royal Manchester Children's Hospital Charity is raising money to ensure continued excellence in treatment, care and research at the hospital – improving the lives of thousands of children each year across the North West and beyond.
The support of the Charity means that the hospital can provide additional resources that make life easier for patients and their families who use the hospital.
The charity has three main areas of work:
*to support research projects to improve our understanding of children's illnesses
*to help to create an environment that's more child-friendly
*to provide state-of-the-art equipment for diagnosis and treatment.
For more information about Royal Manchester Children's Hospital Charity please visit www.rmchcharity.org.uk.