Dr. William Li and musician and activist The Edge of U2, both board members of the non-profit Angiogenesis Foundation, delivered a speech and a performance respectively to more than 200 world leading medical scientists, philanthropists, and religious leaders at the Vatican during a conference called Cellular Horizons held in Vatican City on April 28-30, 2016.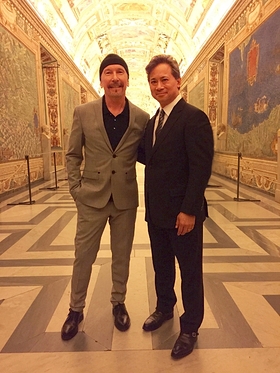 The two delivered the Foundation's message that today's global health crises can no longer be solved by the traditional model of disease treatments, and require a solution aimed at prevention that is affordable, accessible, and equitable for everyone regardless of socioeconomic circumstance. Noting the unsustainable costs of many modern drug therapies, The Edge remarked, "Something has to change, and disease prevention has become a crucial new strategy to explore. It is also becoming achievable for the first time in history."
"The Angiogenesis Foundation has identified that food is an untapped and equitable solution for the future health of society," said Dr. Li, Foundation CEO, "because cellular science is revealing new dimensions about what we eat and drink. More than 80 percent of deaths from chronic diseases are preventable through dietary and lifestyle interventions."
Dr. Li presented research data showing that consuming olive oil, fish, red wine, cacao, and the Mediterranean diet can increase the number of circulating adult stem cells in the body, which can aid in healing organs, slow the ravages of aging, and regenerate tissues. Other foods, according to Li, can combat cancer by starving tumors of their blood supply, including oregano, tomatoes, and broccoli. "We have even found dietary factors in common foods that can turn off cancer-causing oncogenes, and turn on tumor suppressor genes," said Li. Many foods cited during his presentation have been shown in public health studies to be associated with a dramatic reduction in risk of cancer, heart attack, and stroke.
Citing the urgency to reduce human suffering from disease, Dr. Li called on the audience to 1) pool intellectual and financial resources in the pursuit of research focusing on ways to maintain health with the same commitment as the effort to cure disease, especially cancer; 2) mobilize communities to become aware of scientific evidence on foods that can reduce disease risk and employ this in their daily lives; and 3) help shape a policy landscape across nations to broaden healthcare from 'Pharma to Farm', thereby extending the tools by which society addresses non-communicable diseases.
"I hope to have your blessing and support to accelerate our work that embraces the natural virtues of food, with the promise of bringing about a new scientific renaissance for global health," said Li to the Vatican audience.
Following the close of presentations, the conference participants moved to the Sistine Chapel for a special performance by The Edge who, accompanied by a choir of young people from Music Generation, an Irish music education programme supported by U2, made history by becoming the first contemporary musician to play in the chapel. In an address before playing, The Edge said, "Based on my work with the Angiogenesis Foundation and confirmed by what I have seen at this conference, it's obvious that there is a sea change happening within the health care industry that will impact billions of people alive today. Things are getting better in this world and the reason I mostly cite is medical science."
To support the Foundation's mission, donations can be made at www.angio.org/donate/.
To inquire about Foundation food and health, contact: foodforhealth@angio.org