This week, the global nonprofit WhyHunger held its annual WhyHunger Chapin Awards at The Lighthouse at Chelsea Piers, and honored rock guitarist and Grammy Award-winner Tom Morello of Rage Against The Machine and Audioslave with the Harry Chapin Humanitarian Award; singer-songwriter and Grammy Award-winning artist Kenny Loggins with the ASCAP Harry Chapin Humanitarian Award; and social movement partner Landless Workers Movement (MST), received the WhyHunger Chapin Award.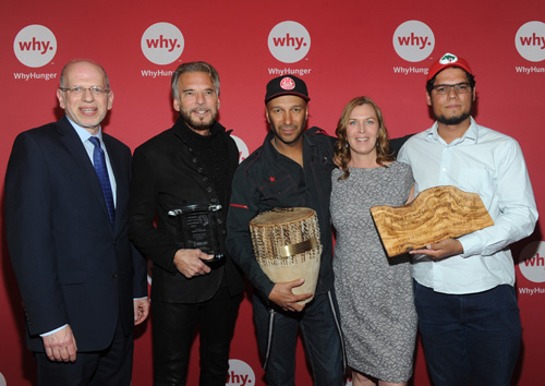 Hosted by Pete Dominick, comedian and SiriusXM's Stand Up with Pete Dominick on- air personality, the event was a celebration of music, food and activism that honored social movements changing the world and recognized artist activists making a difference in the fight against hunger and poverty.
Brazil's Landless Workers Movement (MST) is a mass social movement formed by rural workers fighting for agrarian reform and against injustice and social inequity. A longtime partner of WhyHunger, since their formation in 1984 MST has experienced many achievements including resettling over 350,000 families on land to produce food.
"We believe that supporting social movements and the solutions that derive from grassroots leaders are essential to ending hunger and poverty," said Noreen Springstead, WhyHunger Executive Director. "I am thrilled to be able to not only honor our partner MST, but our friends and fellow activists Tom Morello and Kenny Loggins who use their musical platforms to fight for social justice."
Tom Morello is a groundbreaking artist and activist whether in his solo career, as an original member of the rock bands Rage Against the Machine and Audioslave or in recently forming his new record label, Firebrand Records, which is dedicated to the global release and distribution of radical, socially conscious music. Tom has sold over 30 million records worldwide and has earned multiple Grammy Awards. Tom has partnered with WhyHunger on several occasions including serving as the musical performer for the 2012 Food Sovereignty Prize that recognizes grassroots leaders that are advancing food sovereignty.
"WhyHunger and their partners are tireless fighters for economic justice and human dignity. It is a great honor to stand in the company of these grassroots heroes whose sacrifice and courage continue to build a movement to put an end to the crime of global hunger," said Tom Morello.
Kenny Loggins' remarkable career has brought him from the top of the charts to the toast of the Grammys. He's had smash hits on Hollywood's favorite soundtracks including Top Gun and Footloose and contributed to 1985's landmark charity single "We Are the World." Kenny is a committed environmentalist and has a passion for children's causes. He is supporting WhyHunger's 2016 Summer Meals Rocks for Kids campaign to connect kids in need with free, nutritious meals all summer long when they are most in need.
"I'm honored to have been chosen by ASCAP and WhyHunger as my passion for children's causes fits perfectly with WhyHunger's philosophy. I believe this is the start of a fruitful partnership," said Kenny Loggins.
This year marked the 17th WhyHunger Chapin Awards, celebrating the continued work in supporting innovative grassroots solutions for long-term change. The evening concluded with an After Party that featured DJ Eric Visa, dessert bar and dancing.
Special thanks to sponsors, Hard Rock International, Lisa DeBartolo & Don Miggs, Collection 18, ASCAP, Bayer Corporation and Greenberg Traurig, LLP.