Oaktopia Music & Art Festival (Oaktopia), North Texas' premiere independent music and entertainment event, announced that it has partnered with The Best Fest to provide festival attendees a unique and star-studded performance on the opening night of the event: Petty Fest.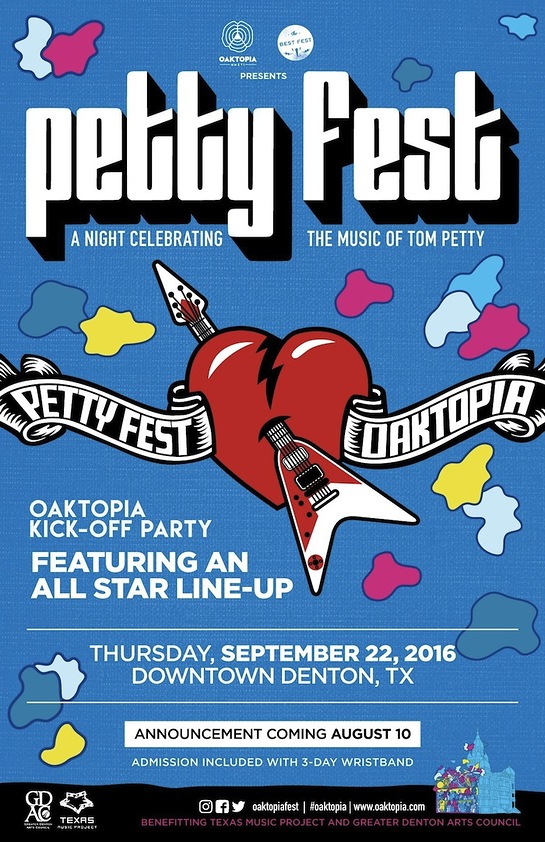 Described by The New York Times as "one of the most jubilant events of the year" and by Rolling Stone as "an experience that is equal parts concert and celebration," this event will showcase an extraordinary and eclectic array of artists paying tribute to the music of Tom Petty with unprecedented performances of their favorite Petty songs. The event is set for September 22, 2016 and will be on the Oaktopia mainstage on the Travelstead grounds.
"This is the first time that The Best Fest has partnered with a music festival to put on a show," said Eric Pulido, Oaktopia Director. "We are both thrilled and honored to partner with them for Petty Fest. As someone who has performed on The Best Fest stage a number of times, I can tell you that it's going to be a special night to remember!"
A portion of the proceeds from the evening's event will go to The Texas Music Project, a grassroots resource that develops and produces music education programs, and the Greater Denton Arts Council, which provides foundational support for Denton's artists and community arts organizations in the Greater Denton area. Since The Best Fest began raising funds for charity at their events, they have raised hundreds of thousands of dollars at multiple sold out shows in New York City, Los Angeles, Nashville, Chicago, Seattle, Dublin, New Orleans, San Francisco and Austin.
"We take great pride and care putting on these shows," said Alex Levy, Co-Founder and Executive Producer of The Best Fest. "The music is very important to us – it entertains and gives meaning to our lives. We see Oaktopia as a great partner because, like us, they love putting on a great event. And if we can raise money for a cause close to our hearts, well, then we feel a responsibility to do it."
Artist lineup for Petty Fest at Oaktopia will be revealed August 10, 2016.
Earning the distinction of being the Best Festival of 2015 by the Dallas Observer, Oaktopia is a music, art and cultural event held in the heart of Downtown Denton, Texas. Beginning on September 22, 2016, Oaktopia is a three-day festival that will present a strong and diverse lineup of some of the most celebrated music artists on various stages. Buy your passes now at Prekindle.
General Admission 3-day tickets are available for $85; 1-Day tickets are available for $50; and a limited amount of VIP 3-day tickets are available for $200.