Just days after making her Olympic debut at the Rio 2016 Games, U.S. Women's National Soccer Team player and World Cup champion Christen Press stars in a new ad campaign for PETA encouraging animal adoption from shelters.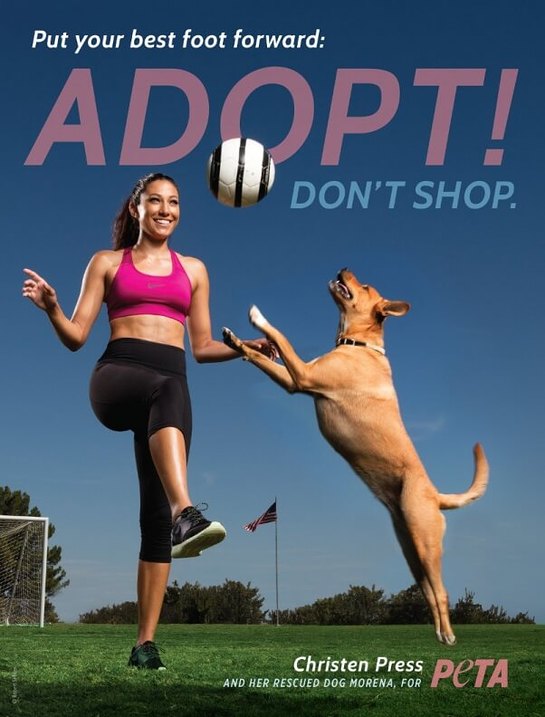 The ad shows the Los Angeles native kicking a ball on the field with her adorable rescued pup, Morena, next to the words, "Put Your Best Foot Forward" and "Adopt! Don't Shop."
In an exclusive interview with PETA, the Chicago Red Stars forward, who represented the U.S. in the 2015 FIFA Women's World Cup, shares how adopting her two dogs has changed her life. "They're so special … [a]nd it's just brought our family so close," she says. "[T]his was an opportunity we had to change the life course of these animals, and in the end, they ended up saving us."
As noted by PETA — whose motto reads, in part, that "animals are not ours to abuse in any way" — 6 to 8 million dogs and cats enter animal shelters every year in the U.S. and half of them have to be euthanized simply because there aren't enough good homes. That's why Christen and PETA are asking caring people to adopt companions from local animal shelters and never buy them from pet stores or breeders, which add to the homeless-animal crisis.
Christen joins a growing list of athletes — including U.S. Men's National Soccer Team goalkeeper Tim Howard, Olympic track athlete Nick Symmonds, and seven-time Olympic medalist and swimmer Amanda Beard — who've teamed up with PETA to promote kindness to animals.