Allstate Foundation Purple Purse and Kerry Washington have announced they will partner with Tory Burch, Christian Louboutin and other designers to create an exclusive "Purple Purse" handbag collection.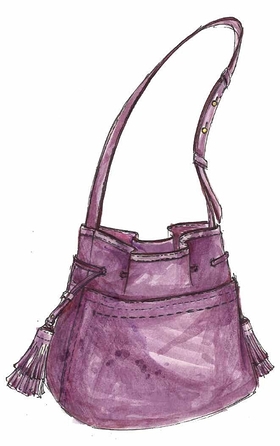 Each fashion house, as well as Washington, will design a series of limited-edition purple handbags that will be auctioned to benefit nearly 200 domestic violence nonprofits across the country.
One in four American women will experience domestic violence in her lifetime. And in 99 percent of domestic violence cases, victims will also experience financial abuse, which means their abusers deny them access to money, ruin their credit by stealing their identity or harass them at work so they lose their jobs. Financial abuse is the No. 1 reason victims stay in or return to abusive relationships. Allstate Foundation Purple Purse aims to create long-term safety and security for domestic violence survivors through financial empowerment.
"2016 marks my third year as Allstate Foundation Purple Purse ambassador, and it's a truly exciting year as we've teamed up with amazing designers to create handbags that will help women enduring financial abuse," Washington said. "I'm grateful for the participation from designers like Tory Burch and Christian Louboutin as well as the passion and creativity they are bringing to this cause that's so important to me."
The designer handbags will be available for auction throughout October, which is National Domestic Violence Awareness Month. Details on the auctions will be announced in the coming weeks on Washington's Twitter page and Purple Purse's Facebook page. One-hundred percent of the proceeds from the auctioned handbags will go toward providing vital services for survivors.
In further solidarity with the program, Washington will design a custom handbag that will be available exclusively for Purple Purse nonprofit community partners to raise funds for their organizations. One of the world's leading branded fashion accessories, footwear and apparel companies, Global Brands Group, will produce Kerry's handbag. From September 28 – October 25, Allstate Foundation Purple Purse will give away one of Washington's limited-edition handbags each day. To be eligible, an individual must donate at least $10 to the Purple Purse Challenge. Full details and rules will be posted on PurplePurse.com when the Purple Purse Challenge begins at the end of September.
"The purse is a powerful symbol of our movement to end domestic violence, but we know awareness isn't enough," said Vicky Dinges, senior vice president, Corporate Responsibility, Allstate Insurance Company. "That's why our collaboration with these top designers is so critical to our cause. It's about reaching new audiences and raising much-needed funds for domestic violence survivors. If we're going to ask victims to ask for help, we need to ensure they will receive the support and resources they need to stay free from abuse and reclaim their lives."
This past June, Allstate Foundation Purple Purse launched its 2016 public awareness and fundraising campaign, #FreetoWalk, to bring attention to the barriers that keep women trapped in abusive relationships. The campaign's film, "America's Largest Prison Break," brings to life the true story of how a mother of six from Michigan broke free from her abusive relationship.
Since 2005, Allstate Foundation Purple Purse has created long-term security for domestic violence survivors through financial empowerment. The program has propelled more than 800,000 survivors on the road to safety through its tools, including the Moving Ahead Through Financial Management curriculum, which equips women with the knowledge necessary to regain their financial independence. To date, The Allstate Foundation has invested more than $50 million to help educate the public about financial abuse and offer critical survivor services, including financial education, asset-building, job training and readiness programs.
On an average day in 2015, more than 12,000 requests from victims for services such as emergency shelter and financial assistance went unanswered due to a lack of funding at domestic violence programs across the country.
If you or someone you know is in a domestic violence situation, call the National Domestic Violence Hotline at 1-800-799-SAFE (7233) or TTY 1-800-787-3224.