At the sidelines of the 71st United Nations General Assembly this week, UN Women unveiled the first-ever HeForShe IMPACT 10×10×10 University Parity Report.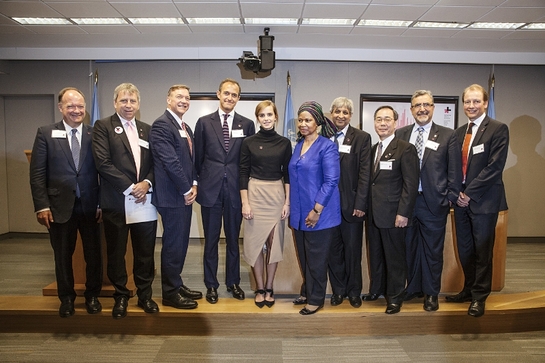 In the groundbreaking report, 10 leading global universities lay out concrete commitments and begin charting their progress toward achieving gender parity. Launched in 2015, the HeForShe IMPACT 10×10×10 is an initiative that convenes ten Heads of State, ten global CEOs and ten University Presidents to fast-track gender equality in boardrooms, classrooms and world capitals.
The group of 10 IMPACT universities span across eight countries on five continents: 
Georgetown University, USA; Institut d'études politiques de Paris (Sciences Po), France; Nagoya University, Japan; Stony Brook University, USA; the University of Hong Kong, Hong Kong; the University of Leicester, UK; University of Oxford, UK; the University of São Paulo, Brazil; the University of Waterloo, Canada; and the University of the Witwatersrand, South Africa.
With more than half of the world's population under 30 and university graduation rates rising, universities have an unprecedented opportunity to make a difference. This report highlights three important critical imbalances that universities can address: 1) the ratio of men to women represented in university faculty and senior administrative positions; 2) the fields of study selected by young women versus young men; and 3) the number of female students at universities compared to their equal access to academic and professional career tracks.
"Each generation of university students that emerges from these formative years of education is a new chance for the world to make progress," said Phumzile Mlambo-Ngcuka, UN Under-Secretary-General and Executive Director of UN Women. "Now that our IMPACT Champions are leading such well targeted initiatives to tackle current barriers to gender equality, we can look to these cadres of HeForShe graduates, and the changing profiles of academia, with renewed hope."
The launch of the report marks the completion of the first year in the IMPACT 10×10×10 initiative for participating universities. In the report, University HeForShe IMPACT Champions present transparent baseline figures on the representation of women across their student and faculty populations against which future progress will be measured and published on an annual basis. This dataset refers to women at undergraduate and graduate levels, as well as faculty and senior leadership roles.
In total, the ten universities have committed to monitoring their progress on 30 commitments. 70% of IMPACT Champions have committed to closing the gender gap in administration; 40% have committed to closing the gender gap in academia; 30% have committed to creating centers of excellence in gender equality; and 40% have committed to ending violence on campus.
"Sustainable development is not possible and peace will not be lasting, without empowering every girl and woman," said Irina Bokova, Director-General of UNESCO. "I see the face of the new global agenda as that of a 12-year-old girl, in school, not forced into marriage or work. It is the face of a 20-year-old woman, at university, creating and sharing knowledge. This is the importance of the HeForShe IMPACT 10×10×10 Initiative."
UN Goodwill Ambassador Emma Watson, who launched the HeForShe movement in 2014, and took part in the report launch said that, "A good university is like a tiny utopia – it's a miniature model of how the whole of society could look. All our IMPACT Champions have chosen to make gender parity a central part of the way they educate their students."
At the 2016 World Economic Forum in Davos, the Corporate HeForShe IMPACT Champions unveiled the inaugural Corporate HeForShe Parity Report. The Corporate Parity Report provided unprecedented disclosure of workforce gender diversity figures, including details on leadership roles and board membership, to inspire global companies to monitor commitments and take action.
HeForShe IMPACT University Special Announcement on Gender-based Violence on Campus September 20th, 2016
Gender-based violence remains a serious challenge to campus security – and educational opportunity – for students across the world.
One in three women worldwide is known to experience some form of physical or sexual violence in their lifetime. Many more victims remain silent due to shame, guilt, or fear. Men and boys are also the victims of physical and sexual violence, and are statistically less probable to report an assault to authorities. In some countries, the incidence of assault and violence against gay, lesbian, bisexual, transgender, and queer students is estimated to be higher.
Ten global academic institutions from the HeForShe IMPACT 10×10×10 initiative have now initiated programmes of action agreed with the United Nations as part of the broader HeForShe programme; including ground-breaking commitments to tackling gender-based violence on their campuses.
Spanning 8 countries on 5 continents, reaching more than 700,000 students and with 40,000 faculty members, the ten IMPACT Universities are positioned to be powerful catalysts for change.
The universities taking part in the HeForShe IMPACT 10×10×10 programme are Georgetown University, University of Hong Kong, University of Leicester, Nagoya University, University of Oxford, University of São Paulo, Sciences Po, Stony Brook University, University of Waterloo, and University of the Witwatersrand.
IMPACT Universities will work together to:
• Institutionalize zero-tolerance policies on sexual assault;
• Provide campus-wide training and briefings for all faculty, administration, and students;
• Transform student ideas into action through HeForShe Global 'Ideathons'
Under the HeForShe programme, additional specific commitments and targets are agreed with each university, providing models of highly practical change in a global context. IMPACT Universities recognize that practical solutions to gender-based violence on campus are strengthened by collaboration with their students. A pioneering initiative to end gender-based violence includes the launch of annual HeForShe Ideathons over the next three years on IMPACT University campuses, which enables students to explore and devise solutions through collaboration and facilitation. Across all IMPACT Universities, tackling gender-based violence is regarded as an absolute priority. Charting a path for other universities to follow, the models under creation at IMPACT universities are central to the global campaign to eradicate gender-based violence.