Fifth Harmony's Camila Cabello has teamed up with Save the Children to design a limited-edition T-shirt to shine a light on girls around the world.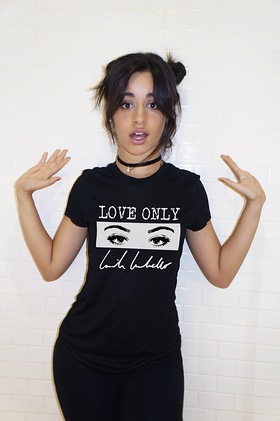 The special Love Only collaboration, which launches ahead of International Day of the Girl, is available starting today through Oct. 18, with 100 percent of the net proceeds going to Save the Children. The Love Only collaboration will be available at represent.com/camila.
On Oct. 11, Save the Children will celebrate International Day of the Girl, a day dedicated to highlighting the barriers girls face globally and to empowering girls to reach their full potential. The Love Only tee will help support the charity's efforts to raise awareness of these issues and to ensure a world where girls get equal access to education, health care and opportunities to succeed. The Love Only collaboration for Save the Children is Camila Cabello's first-ever charity tee.
"Love Only is an important concept to me – it's all about uplifting ourselves and supporting others," Camila Cabello, a Save the Children Celebrity Cabinet member, said. "I am so inspired by what Save the Children is doing to give girls around the world a brighter future. So I wanted to support this amazing cause by designing this special Love Only tee and hoodie."
The limited-edition T-shirt is selling for $24.99. A hoodie sweatshirt is also offered for $39.99. Both styles are available for purchase worldwide.
Camila Cabello and Save the Children invite supporters and influencers to get involved, take a photo in the T-shirt and spread the campaign on social media using #LoveOnlyTee.