Stars including Simon Cowell, Lauren Silverman, Dame Joan Collins and Tony Hadley were out in force on Saturday 1 October to show their support for the Shooting Star Chase Ball, which raised a record amount of £150,000 for children with life-limiting conditions in London and Surrey.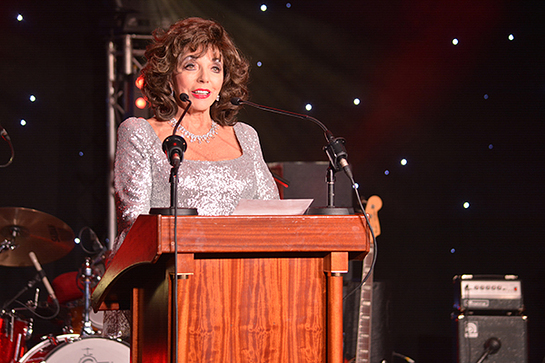 The event, which took place at The Dorchester, was hosted by TV presenter Angela Scanlon, and featured entertainment from Grammy and Emmy award-winning artist, Kipper Eldridge, who performed a David Bowie tribute with special guests – Vice President of Shooting Star Chase, Tony Hadley; Blue's Lee Ryan; and Britain's Got Talent's Connie Talbot.
350 guests enjoyed a five course meal by executive chef Henry Brosi before taking part in a live auction where money-can't-buy lots were on offer to the highest bidder – which included luxury holidays in the Bahamas, Portugal and Mexico; a dress worn by Dame Joan Collins in Dynasty; and a private box at the Royal Albert Hall to see Tony Hadley in concert with the South Bank Philharmonic Orchestra. The lots raised a total of £115,00, with Simon Cowell offering winning bids for a private dinner for 10 cooked by celebrity chef Ollie Burgess and the private box to see his pal and fellow Vice President, Tony Hadley perform.
Patron, Dame Joan Collins, gave a speech on the night and talked about her own experience as a parent with a sick child: "I've been involved with the charity for many years and I'm more and more impressed with the selfless dedication of the staff. Having once been in devastating circumstances like this myself, I'm only too familiar with the sense of despair this engenders."
Vice President, Simon Cowell, followed, and spoke about his passion for the charity: "Shooting Star Chase is a very personal charity. It's not just about nights like this, the real work is the day-to-day support they give the families. I can say now as a dad I really appreciate what this charity does and what it really means when you need people to look after you."
Other fundraising from the night is currently being counted and the total is expected to exceed £150,000. Now in its 12th year, the Shooting Star Chase Ball has raised more than £1 million since its launch in 2004.
Karen Sugarman, Director of Fundraising at Shooting Star Chase, said about the event: "The Shooting Star Chase Ball is always a very special evening and this year has been no exception. We are so thrilled and overwhelmed by the generosity from each and every one of our guests and their support will make a huge difference to the lives of the children and families we provide vital care for at our hospices. It's been an absolute pleasure to ask my close friends in music to perform for us and put together this star studded night in honour of the truly great icon, David Bowie."