"As women, there is a bond we all share," Amal Clooney told a sold-out audience at the 17th Annual Texas Conference for Women at the Austin Convention Center. "It's not a bond of geography or culture, but of shared experience. There are struggles that only women face. The worst thing we can do as women is not stand up for each other. [But] if we are united, if we keep up the fight for each other's rights, there is no limit to what we can do."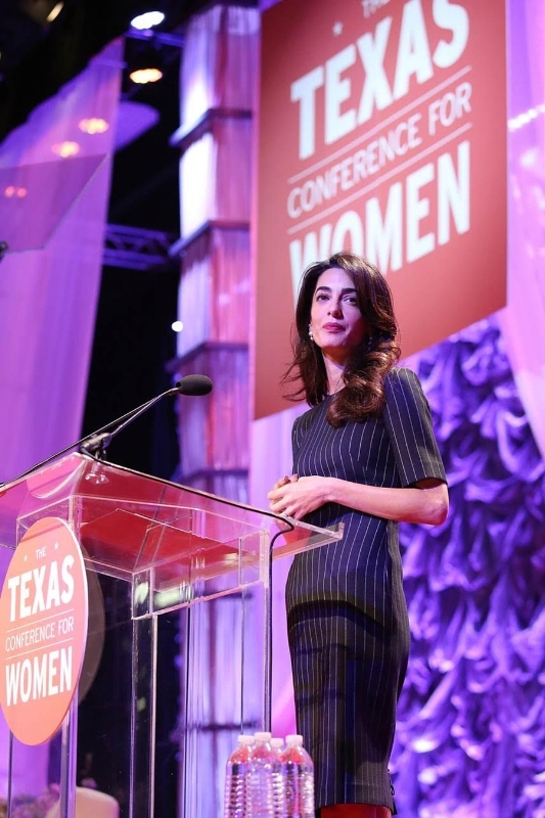 Clooney, a British human rights lawyer, has appeared before the International Court of Justice, the International Criminal Court, the European Court of Human Rights and various courts in the United Kingdom and the United States and she has held a number of posts within the United Nations. Most recently, she has begun a case against ISIS on behalf of Nobel Peace Prize nominee Nadia Murad, a young Yazidi woman who escaped capture and sexual enslavement by ISIS.
The 7,250 attendees also heard keynote address from Abby Wambach, Olympian, FIFA Women's World Cup champion and author, "Forward: A Memoir"; Diane von Furstenberg, iconic fashion designer, philanthropist and author, "The Woman I Wanted to Be"; Annie Clark, founder of End Rape on Campus, whose work is featured in the documentary "The Hunting Ground"; Nina Tassler, highest ranking Latina in network television and recently retired chairman of CBS Entertainment; and Linda Cliatt-Wayman, renowned educator and principal of Strawberry Mansion High School in Philadelphia. Texas First Lady Cecilia Abbott also addressed attendees.
Themed "The Power of Us: Amplify your Voice," the nonpartisan, nonprofit Conference, the largest of its kind in Texas, also featured breakout sessions led by more than 100 experts in the fields of leadership, philanthropy, health and wellness, finance, media, personal branding and professional development.
This year, conference attendees visited the career pavilion for professional development workshops, resume reviews with human resource experts, LinkedIn profile makeovers and executive coaching with the International Coach Federation Austin and Texas Women in Business. In the Community Connection Pavilion, United Health Care provided interactive volunteer opportunities with Special Olympics.
"Women derive incredible strength and inspiration when we come together to celebrate, encourage and amplify each other's voices," said Johnita Jones, president of the Conference Board. "And each year, we are reminded that we accomplish more together –this is the true Power of Us."
The Texas Conference for Women is generously sponsored by Cisco; Dell; Rackspace; State Farm; United; United Health Care; HEB; Texas Beverage Association; Deloitte; Liberty Mutual; Phillips 66; The University of Texas at Austin; USAA; Accenture; Akamai; Bonterra; Brandy Pham; erin condren; ExxonMobil; HomeAway; Huston-Tillotson University; IBM; Intel; KIND; Mary Kay; Master Card; Mercer; NFP;NXP; Oracle; Poo-Pourri; Retail Me Not; and Texas Woman's University. Media partners include Austin American-Statesman; Austin Monthly; Austin Woman; Clear Channel Outdoor;iHeartMEDIA; KVUE; AAT; and The Texas Tribune.
"Rackspace recognizes that amplifying the voices of women begins with a smart and dedicated community," said Carla Piñeyro Sublett, Senior Vice President and Chief Marketing Officer, Rackspace. "We're proud to partner with the Texas Conference for Women to provide the tools that will help women and the men who are their allies to thrive and make a difference."