A group of exceptional animals and people – including Sen. Bob Dole, a dedicated emotional support dog, a loyal cat who saves his owner from deadly seizures, and the first pit bull police dog in the state of New York – were honored on November 17, by the ASPCA (The American Society for the Prevention of Cruelty to Animals) at the 2016 ASPCA Humane Awards Luncheon in New York City.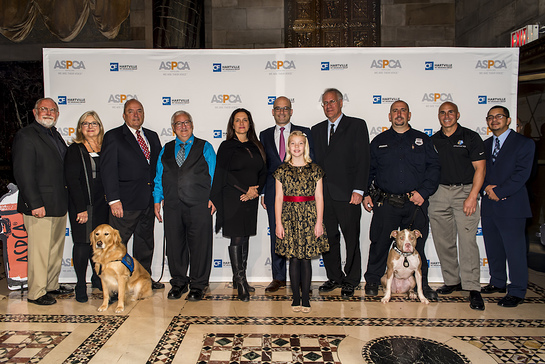 The celebration, led by master of ceremonies Emmy award-winning broadcast news veteran Chuck Scarborough, recognized extraordinary animals as well as individuals who have shown great dedication to animal welfare in 2016, which is also the 150th anniversary year of the ASPCA.
"In addition to recognizing the heroism and sacrifice of these eight remarkable recipients, the ASPCA Humane Awards bring important attention to the ever-growing commitment to animal welfare from individuals, communities, and businesses across the country," said Matt Bershadker, President and CEO of the ASPCA. "That widespread support is critical to ending cruelty and protecting animals in need."
Memorable remarks from HAL Award acceptance speeches include the following:
Sen. Bob Dole, ASPCA Presidential Service Award recipient: 
"I didn't realize when I was elected to Congress in 1961 that you could do things that would make a difference for animals — these poor defenseless creatures that are being mistreated."
Dole also shared animal-friendly advice for President-Elect Donald Trump: "[Donald] Trump doesn't have a dog. And I have come to know the Donald, and my next phone call with him will be that he ought to have a dog in the White House."
Rob Rosa, ASPCA Henry Bergh Award recipient: 
"Too often, society turns its back on individuals and animals who seem impossible to change and are viewed as 'not my problem.' No one — human or canine — deserves to be forever judged by their worst day. New Leash on Life USA and the ASPCA see the potential in all people and animals, and treat each with respect and humanity."
Tim Hetzner, President of Lutheran Church Charities, on behalf of Ruthie, ASPCA Dog of the Year Award recipient: 
"There is something about a dog, a sixth sense. How many friends do you know who show unconditional love, are confidential, don't take notes, and wag their tails at you? That's what dogs do. They have a lot to teach us. And I thank the ASPCA for championing animals."
Following a nationwide public call for nominations, an ASPCA-appointed committee reviewed hundreds of entries and selected winners in eight categories.
ASPCA Dog of the Year
Ruthie
Northbrook, Ill.
Watch Video Introduction
Most comfort dogs work in hospitals or other care centers, helping people cope with everyday stresses. But Ruthie, a golden retriever, has been called to service during some of the nation's most tragic and devastating events, including the Orlando nightclub shooting, the shooting of police officers in Dallas, the Boston Marathon bombing, the Newtown school shooting, as well as tornadoes in Oklahoma and wildfires in California.
At those sites and others, Ruthie has provided relief to both victims and responders, keeping stress levels down, and providing comfort to grief-stricken survivors. Ruthie's presence was particularly impactful during her six weeks in Newtown, the scene of the Sandy Hook tragedy, where she helped traumatized young girls and boys – some of whom hadn't spoken since the shootings – come out of their shells.
Because of her devotion to providing comfort and relief to those who need it most, Ruthie is the 2016 ASPCA Dog of the Year.
ASPCA Cat of the Year
Blake
Fort Worth, Texas
Watch Video Introduction
Blake, a black cat in Fort Worth, Texas, had no idea what was in store for him when Glen Schallman walked into the Humane Society of North Texas last winter. Blake had been going through a tough time since being rescued from a hoarding situation and undergoing a host of veterinary procedures. But his life changed when Schallman, who suffers from three serious brain conditions and daily intense seizures, showed up simply looking for a new friend. Blake jumped up and down to get Schallman's attention, and the two bonded immediately.
Schallman suffered a seizure the same day he brought Blake home, and Blake reacted by patting Schallman's arm with his paws. A few days later, Blake proved he truly understood Schallman's dilemma when Schallman had a life-threatening seizure while sleeping. Blake saved Schallman's life by alerting him with a sharp bite to his toe. Schallman says that Blake has a sixth sense about detecting oncoming seizures and credits the cat with saving his life.
Because of his fierce loyalty and complete dedication to his owner, Blake is the 2016 ASPCA Cat of the Year.
ASPCA Public Service Award
CPPD K9, Kiah
Poughkeepsie, N.Y.
Watch Video Introduction
In July 2015, the City of Poughkeepsie Police Department welcomed K9 Kiah, a new narcotics detection and missing persons tracking dog, to their ranks. The department has had several police dogs in the past, but unlike the typical police dog, Kiah is a rescued pit bull. As the first pit bull police dog in the state of New York, she has become a national sensation and is blazing a new path for other police departments and pit bull dogs around the country.
Before joining the City of Poughkeepsie PD, Kiah was a stray, found injured and abandoned in a parking lot. She was rescued by the staff of Kirby Animal Care Services in San Antonio, who quickly recognized her friendly demeanor and tireless energy. They reached out to Brad Croft, the trainer and founder of Universal K9, who facilitates a program funded by the Animal Farm Foundation to train rescued pit bull dogs for law enforcement work. After just a month of training, Kiah earned recognition as one of the most willing and dedicated law enforcement dogs Universal K9 has ever seen. Kiah was placed with Officer Justin Bruzgul, and quickly became his partner, his best friend and a beloved member of his family.
In addition to their regular beats, Kiah and Officer Bruzgul visit schools and conferences to educate the public about the importance of animal shelters and animal rescue. Kiah is also an ambassador for pit bulls nationwide, demonstrating that any dog can have amazing underlying potential.
For her service to the city and shattering stereotypes, Kiah is the recipient of the 2016 ASPCA Public Service Award.
ASPCA Presidential Service Award
Senator Bob Dole
Washington, D.C.
Watch Video Introduction
With 35 years in Congress and experience as a decorated soldier, former Senator Bob Dole is well known for serving his country, but less well known is his lifelong service to animals in need.
In office, Dole – who for years came to work with his miniature schnauzer, Leader, at his side – championed humane legislation, advocated for animals in crisis, and brought critical attention to important animal issues. In 1974, after learning the U.S. Army experimented with toxic chemicals on beagles, Dole introduced a bill outlawing the practice. He championed important amendments to the Humane Slaughter Act, which mandated unprecedented humane standards and inspections for facilities producing meat for the public. In 1984, he was awarded the ASPCA Award for Humane Excellence for his consistent commitment to protecting vulnerable animals in the U.S.
Since his retirement from politics in 1996, the 93-year-old Dole has remained active in the animal welfare cause, advocating for a permanent ban on horse slaughter, protecting the pets of domestic violence victims, and condemning the barbaric treatment of farm animals at the USDA's U.S. Meat Animal Research Center (USMARC). His advocacy helped encourage Congress to take action to ensure the facility's compliance with the Animal Welfare Act. As recently as July, Dole graciously participated in a series of ASPCA events in Washington D.C. that showcase the selfless work of our nation's animal shelters and the importance of passing key animal welfare legislation.
For a lifetime of compassion that has made a difference in countless animal lives, Senator Bob Dole is the recipient of this year's ASPCA Presidential Service Award.
ASPCA Henry Bergh Award
Norberto "Rob" Rosa and New Leash on Life USA
Philadelphia, Pa.
Norberto "Rob" Rosa's determination to save animal lives began at a low point in his own. At age 18, Rosa was sentenced to prison for drug possession. While serving his time at a maximum security facility in Pennsylvania, Rosa volunteered to care for cows and horses on the property and also volunteered with Canine Partners for Life (CPL), a prison program that teaches inmates to train full-service dogs. From that moment on, helping and protecting animals in need became Rosa's passion.
After his release in 2005, Rosa took a job with CPL as assistant to the executive director. Later that year, he took a job with Philadelphia Animal Care and Control (PACCA) as a kennel attendant and quickly worked his way up to become shelter manager, where he oversaw the health and safety of more than 30,000 animals annually. In subsequent years, Rosa worked at South Jersey-based Animal Welfare Association (AWA) and The Animal Care & Control Team of Philadelphia.
In these roles, Rosa was particularly interested in giving economically challenged families the opportunity to adopt homeless animals and care for them with the help of low-cost spay/neuter services and pet care counseling.
Today, Rosa connects his unique background with his passion and expertise in animal welfare as the associate vice president of prison programs for New Leash on Life USA, a program that connects inmates and animals to open doors of opportunity for each. In the five years since its founding, NLOL-USA has flourished thanks in large part to Rosa's steadfast commitment and deep faith in the power of second chances.
Reflecting the unwavering dedication of ASPCA founder Henry Bergh, Rob Rosa is this year's recipient of the 2016 ASPCA Henry Bergh Award.
ASPCA Farm Animal Welfare Award
Dr. Jim Keen
Lincoln, Neb.
Watch Video Introduction
When Dr. Jim Keen saw atrocious animal abuse where he worked, he didn't just walk away; he risked his livelihood to expose it. As a veterinary researcher at the U.S. Animal Meat Research Center – a taxpayer-funded institution outside of Omaha, Nebraska – Keen saw firsthand how many of the Center's projects resulted in severe cruelty for animal subjects, and began meticulously documenting the abuses.
Among the many abuses Keen uncovered were pigs and cows giving birth to twice the normal number of offspring, resulting in weakened and deformed animals with very short life expectancies. He also documented newborn lambs deliberately left in open fields where they became fatal victims of predators, harsh weather conditions, or starvation.
After unsuccessful attempts to address the issues internally, Keen shared his story with Michael Moss at The New York Times. The resulting exposé, "U.S. Research Lab Lets Livestock Suffer in Quest for Profit," created a public uproar and resulted in new legislation that will extend protections for farm animals used in federal research facilities.
Since the exposé, Keen has remained active in the animal welfare cause, advocating for greater regulation of farm animal research.
For his selfless commitment to ensuring the safety of farm animals, we are pleased to present Dr. Jim Keen with the 2016 ASPCA Farm Animal Welfare Award.
ASPCA Horse of the Year Award
Sutter, Return to Freedom Wild Horse Sanctuary
Lompoc, Calif.
Watch Video Introduction
A stunning palomino stallion born in northwestern Nevada, Sutter was captured from public lands when he was barely two years old. Immediately following his capture, he was adopted to a private party through the Bureau of Land Management's horse adoption program. During that time, Sutter endured tremendous abuse, including being whipped and left tied up under a hot tarp, and kept from food and water. Traumatized by this experience, Sutter was deemed "dangerous" and returned to the Bureau of Land Management, marked to be destroyed. He was fortunately rescued and cared for by the Heritage Discovery Center (HDC).
For months, Sutter was so traumatized that if anyone even walked near his enclosure, he would slam himself into walls, attempting to free himself. With time, patience, and loving care, Sutter learned to trust humans again, appearing at venues including the Rose Bowl Parade, where he safely carried a novice rider, as well as a number of educational documentaries and clinics.
When the HDC was forced to move in 2002, they contacted Neda DeMayo, founder of the Return to Freedom sanctuary, who took Sutter in and helped him continue his presence as an ambassador for wild horses at clinics and events. To this day, Sutter continues to not only thrive, but inspire equine awareness, rescue, and advocacy through his own story and by representing the dwindling number of horses who deserve our promised protection on public lands. A true people-lover, Sutter also reminds us that when we extend love to animals, we receive it back, multiplied. For these reasons, Sutter is the 2016 ASPCA Horse of the Year.
ASPCA Tommy P. Monahan Kid of the Year Award
Willow Phelps
Ringwood, N.J.
Watch Video Introduction
For half of her young life, nine-year-old Willow Phelps has devoted herself to helping a wide range of vulnerable animals including goldfish, orcas, abandoned chimpanzees, and homeless dogs and cats.
At home, she regularly fosters hospice animals, helping them live their final days in a loving and happy environment. Last year, she swam a mile to raise funds for a kitten who needed a leg amputation.
Some of Willow's efforts are impressively creative, including sewing cat toys and selling them at a craft fair to raise funds for local homeless teens and pets. In one of her most well-known humane endeavors, Phelps successfully ended the use of live goldfish as prizes at her school carnival with help from the Animal Legal Defense Fund and a New Jersey law that prohibits the use of live animals as prizes without a special permit. Realizing this would reduce revenue for the school, Phelps raised $500 in a charity run to make up the difference.
Willow's deep commitment to vulnerable animals would be extraordinary for an adult advocate, much less someone in fourth grade.
For her outstanding accomplishments and ongoing devotion to animals in need, Willow Phelps is the 2016 ASPCA Kid of the Year.
Notable attendees included ASPCA President & CEO Matt Bershadker, Chuck and Ellen Scarborough, Mark Badgley and James Mischka, Arriana Boardman (Board Member, ASPCA), Jeff Pfeifle (Board Member, ASPCA) Samantha Boardman Rosen, Michael Bruno, Mary Calvi, Tamsen Fadal, Michael Gargiulo, Marjorie Gubelmann, Mark F. Gilbertson, Linda Lloyd Lambert (Board Member, ASPCA), Allison Aston, Margo MacNabb Nederlander, Bob Colacello, Patricia Crawford, Donna Aquavelle, Rikki Kleiman Bratton, Elaine and Ken Langone, Marina Killery Orentreich, Karen LeFrak, Jean Shafiroff, Nancy Silverman, Jill Rappaport, Lauren Scala and Hamilton South.
Hartville Pet Insurance Group, Inc., one of America's oldest pet health insurers and the provider of ASPCA Pet Health Insurance, sponsored the ASPCA's annual Humane Awards Luncheon. West Elm and the Plaza Hotel provided additional support.