Comedian John Bishop poses with his beloved rescued turkeys in a series of photos to help Humane Society International/UK urge people to celebrate animals this Christmas by leaving meat off the menu.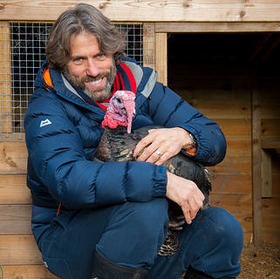 The charity has produced a free Cruelty Free Christmas online guide packed with tempting plant-based Christmas recipes as well as scrumptious options from high-street retailers including Sainsbury's, Iceland, Waitrose, Tesco, Morrisons, Hotel Chocolat and Holland & Barrett.


John and his wife Melanie adopted turkeys Bernard, Parsley, Sage, Onion and Thyme after they were rescued from distressing conditions on a factory farm. The lucky four now live happy and free on the couple's Cheshire estate, alongside fellow rescues Milo the pot-bellied pig, horses Amara, Mable, Indie and Dora, and English bull terriers Bilko and Trigger.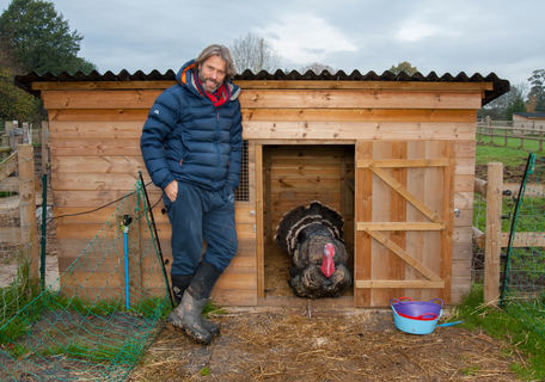 Although John is one of Britain's best loved comedians, he's very serious when it comes to caring about animals, standing up for his furry and feathered friends every time he sits down to eat. John said: "I don't have turkey on my Christmas dinner table – they'd eat all my sprouts! Seriously though, once you get to know these animals as individuals it's impossible to imagine sitting down to eat them. Thankfully, there are so many great veggie recipes and products around, we're still going to get completely stuffed on the big day! So it will be a happy and peaceful Christmas for everyone in the Bishop household, whether two legs or four."
John has been a vegetarian for 30 years, motivated by concerns over animal welfare but also thankful for the human health and environmental benefits of a meat-free lifestyle. He's looking forward to tucking into some delicious plant-based fayre this festive season. He and HSI/UK hope his photo shoot with his turkeys will inspire people to think about these birds as more than a meal.
John says: "It's a privilege getting to know my turkeys as individuals, each with their own personality. Sage is quite a feisty girl, always bossing the others around and beating them to the food, whereas Bernard is more laid back. He likes being scratched under his chin, it's his sweet spot and he often falls asleep on my lap, not that different from my dogs really. Every turkey is as special as Bernard, Parsley, Sage, Onion and Thyme and if people saw that, perhaps they'd think twice."
HSI/UK has made it super easy for everyone to join John and try a meat-free holiday, by producing an online guide with tempting meat-, egg- and dairy-free recipes from blogger Little Miss Meat Free and Lee Watson, author of 'Peace & Parsnips' plant-based cookbook, as well as scrumptious options from online and high-street outlets including cranberry sausage rolls, parsnip & chestnut roast with mulled wine sauce, and a turkey-style roast with wild rice stuffing. HSI's UK staff have also picked out some of their favourite animal-friendly sweet treats, including chocolate and hazelnut churros, mince pies, Christmas puddings and caramel pecan praline dairy-free ice-cream. There is also a section highlighting the variety of delicious dairy-free cheeses available from artisan producers as well as leading supermarkets.
According to Mintel, around 12 per cent of the British public (that's 7.8 million people) are already vegetarian or vegan, with millions more 'flexitarians' actively reducing meat consumption. And new figures released by Ocado earlier this month reveal that vegan food sales in the UK have increased by an astonishing 1,500 per cent in the past year. Humane Society International advocates compassionate eating – or the Three Rs: "reducing" or "replacing" consumption of animal products with plant-based foods, and "refining" our diets by avoiding products from the most abusive production systems, such as eggs from caged hens.
Claire Bass, executive director of HSI/UK, says: "With so many tasty meat and dairy-free options available, it's never been so easy to take a holiday from eating meat. There's a plethora of delicious plant-based dishes that make a perfect Christmas dinner centrepiece, and veggie versions of traditional favourites such as roast turkey and pigs-in-blankets. Christmas and the New Year is the perfect time of year to give peas a chance!"
Fast facts:
• More than 77 billion land animals a year are raised for food worldwide, around one billion in the UK alone. Around 20 million turkeys are killed for meat annually in the UK, many raised in factory farms. Around half of these are destined for the Christmas dinner table.
• Turkeys and chickens bred for meat typically live in overcrowded, windowless sheds in factory farms where they're forced to grow fat so quickly they suffer a raft of debilitating and sometimes fatal health conditions.
• Turkeys naturally live for up to 10 years of age, but on factory farms they are normally slaughtered at just 9 to 21 weeks old.
• In the wild, turkeys are highly sociable birds who roost in trees and can fly at speeds of up to 50 mph. Famous for saying "gobble gobble", turkeys actually have more than 20 different vocalisations, and each bird has a unique 'voice.'
• Most pigs killed in the UK spend their entire lives indoors, including breeding sows who are immobilised for weeks in farrowing crates every time they give birth.
• Cutting down on animal products is a great way to protect your health. Studies have found that people who eat less meat have a lower risk of certain types of cancer, heart disease, Type 2 diabetes and obesity. Most recently the World Health Organisation warned that processed meats such as bacon, ham and sausages can cause cancer.
• Animal agriculture is a lead contributor to climate change, and accounts for approximately 15 per cent of man-made greenhouse gas emissions.