This week, actor and animal advocate Pamela Anderson – accompanied by rescued dog Zorro – hand-delivered a 179,000-name petition to the High Commission of Mauritius in London that urges the country to implement a spay-and-neuter programme to tackle its stray-dog problem.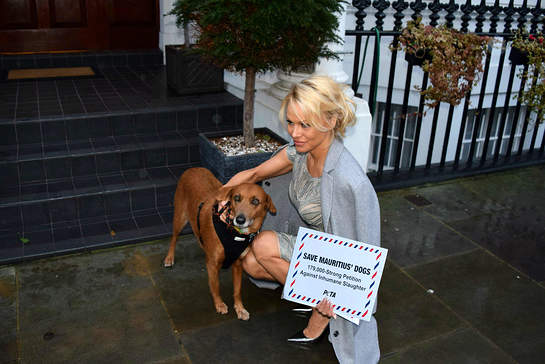 The petition follows video footage released in November by International Animal Rescue and PETA which reveals that workers from the government-funded Mauritius Society for Animal Welfare (MSAW) hunt down, catch, and cruelly kill a large number of dogs with painful hit-or-miss lethal injections. The shocking eyewitness account shows that as many as 20 dogs are killed in full view of one another and that they try desperately to escape by climbing the kennel gates and walls.
"How can people enjoy a vacation on your 'Paradise Island' while knowing that such horrors are taking place near their hotels?" pleads Anderson. "Dogs are very loving and sensitive beings. We owe it to them to find a compassionate solution to the overpopulation crisis in Mauritius."
The long-time PETA supporter joins Tom Hardy, Krysten Ritter, Mickey Rourke, and Sia in teaming up with PETA or its international affiliates to raise awareness of dogs in need.