Three L.A. families in need receive the holiday surprise of a lifetime, courtesy of L.A. native and former NBA and UCLA star Baron Davis.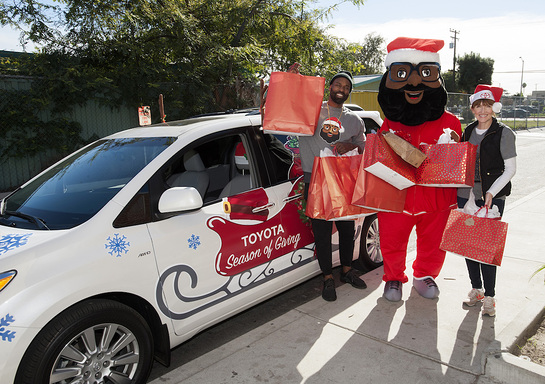 This year, Baron and his Black Santa Company partnered with the Toyota Motor Sales Los Angeles Region to purchase and personally deliver a variety of gifts off the wish lists of three underprivileged families.
The gift giving took place at the Boys & Girls Club of Watts/Willowbrook at 1339 E 120th St, Los Angeles, CA. Each family arrived thinking they were receiving lunch – until they saw Baron and the Black Santa Mascot arrive in a decorated Toyota Sienna filled with gifts!
The local families included children, ranging from ages 2 to 15 years old, who are all facing a variety of struggles, including recent deaths and overcoming the impact of drugs and alcohol on their families. To say they're in need of a helping hand would be an understatement. In the spirit of giving, the Black Santa Company jumped at the opportunity to partner with Toyota, making each family's Holiday season a little brighter.
"Black Santa's mission is to celebrate diversity, the joy of giving and the magic of good," said Baron Davis. "He's here to bring people together and have fun. We hope he and other characters being created will kindle good spirit and giving regardless of the time of the year."