Last week, GOOD+ Foundation, a national nonprofit founded by Jessica Seinfeld that provides training and support to fathers and families living in poverty, held its 3rd Annual Halloween Bash at Sony Pictures Studios in Los Angeles, California.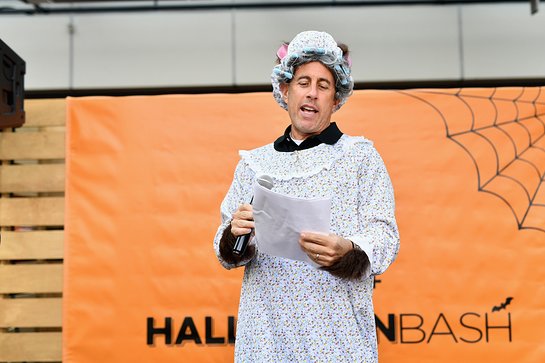 Hosted by Jessica and Jerry Seinfeld, the Halloween Bash welcomed children and parents for a fun-filled day of activities, carnival artists, games and rides, as well a Costume Contest for "Best Family" and "Best Child" which was emceed by the comedian. The event presented by Delta Air Lines and Otter Pops raised nearly $310,000 for the organization to support its work in Los Angeles.
Special guests included: Aubrey Anderson-Emmons (MODERN FAMILY), Baron Davis (NBA All-Star and Entrepreneur), Heather Morris (GLEE), Ike Barinholtz (BLOCKERS), Kimberly Van Der Beek, Matthew Morrison (GLEE), Nate Berkus and Jeremiah Brent (NATE AND JEREMIAH BY DESIGN), Michelle Trachtenberg (BUFFY THE VAMPIRE SLAYER), Sarah Michelle Gellar (BUFFY THE VAMPIRE SLAYER), Sebastian Maniscalco (TAG), Sean Patrick Thomas (SAVE THE LAST DANCE) and Aonika Laurent Thomas (FANTASTIC FOUR).
Sponsors and event activations included: Delta Air Lines interactive and educational world map experience; Otter Pops Beach Bungalow equipped with a tasting bar, deck for lounging and entertainment; UPPAbaby make-your-own pumpkin planter activation; Levi's Kids denim trucker jacket screen-printing; Little Tikes play center; Urban Decay get-vamped-up funhouse mirrors; everafter photo booth; Monica + Andy and Little Spoon farmer's market; So Yummy spook-tacular cupcake decorating; Bai Beverages hydration station; paper mache pumpkin making with Tosi Health; BABYZEN YOYO and stroller valet lounge; design-your-own birdhouse with Cayton Children's Museum; SleepBelt temporary tattoo station; and basketball hoop practice area with Lakers Youth Foundation. Gift bag sponsors included: Entertainment One, Foodstirs, Good Day Chocolate, This Bar Saves Lives and Trumpette.
The event was produced by Geffen Events with support from FWR Event Rentals, Balloon Celebrations, Sony Pictures Television, and Wolfgang Puck Catering.
Since 2001, GOOD+ Foundation has provided a safety net of social services, education, goods, and support for families working toward financial stability. The organization recently expanded its efforts to help address one of the root causes of family poverty: father absence. Through this work, GOOD+ Foundation gives non-custodial an low-income dads the education, training and tools they need to be active co-parents to their children, while they work toward reaching goals.