The team at Hackensack Meridian Health is pleased to congratulate New York Giants Quarterback Eli Manning on his Walter Payton NFL Man of the Year Award.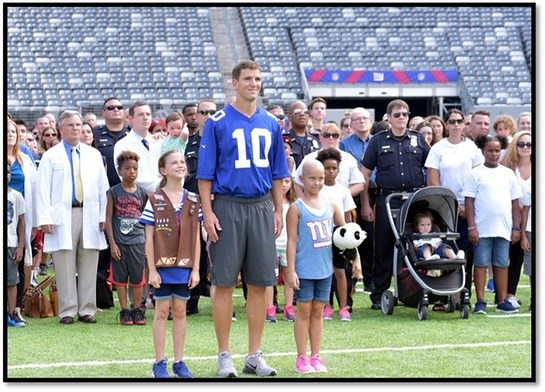 He shares the award with Wide Receiver Larry Fitzgerald of the Arizona Cardinals.
"We are ecstatic that Eli achieved this incredible honor," said Robert C. Garrett, co-chief executive officer of Hackensack Meridian Health. "He is a valued team member both on and off the field, and we are particularly grateful for his devotion to our patients and the Tackle Kids Cancer initiative."
Each NFL team nominates one player who has had a significant positive influence on his community. In a statement, the NFL praised Manning as a steadfast champion for causes involving children.
"Eli shares our vision in advancing the Tackle Kids Cancer initiative in many ways," said Jon M. Fitzgerald, president of the Hackensack University Medical Center Foundation. "In 2016, he issued a matching donation challenge that ignited the community and exceeded the goal. We are proud to partner with Eli on this essential program."
One hundred percent of the funds raised by Tackle Kids Cancer directly supports pediatric cancer research and program services at the Children's Cancer Institute at HackensackUMC. Tackle Kids Cancer is a partnership of dedicated clinicians and researchers, corporate sponsors, and supporters working to make the necessary strides towards advancing medical research to find a cure for pediatric cancer and providing the highest level of care.
Since volunteering to champion the Tackle Kids Cancer campaign ahead of the 2015 season, Eli Manning regularly visits the children battling cancer at the Children's Cancer Institute at HackensackUMC. His fundraising, appearances and personal donations are exemplified by the creation of the "Sohn-Manning Pediatric Cancer Survivorship Program," among the many fundraising efforts he inspired. During its inaugural season the Giants, Manning and HackensackUMC were surprised by the many local grass roots organizations supporting Tackle Kids Cancer, so Manning pledged to match and inspire those efforts – and "Eli's Challenge" was born, exceeding the goal in the first few weeks of the program. To date, his support of the program has directly led to more than $1,000,000 in fundraising in just over one year, and propelled the new charitable program to over $4,000,000 in funds raised since its inception.
The Walter Payton NFL Man of the Year Award recognizes an NFL player for his excellence on and off the field. The award was established in 1970. It was renamed in 1999 after the late Hall of Fame Chicago Bears running back, Walter Payton. This is the first time a New York Giant player has won the award in its history. The winner was announced in Houston at NFL Honors, a two-hour primetime awards special that aired nationally on FOX the night before Super Bowl LI.