Participant Media and AC Films are partnering on Human Flow, a documentary directed by world renowned artist, activist and filmmaker Ai Weiwei.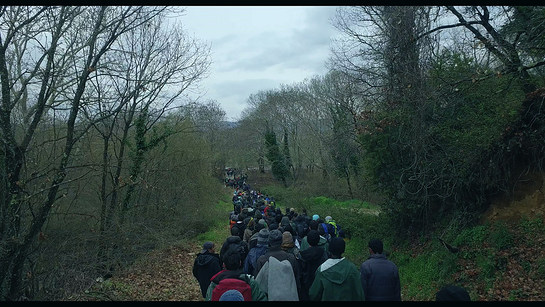 The feature-length film, which explores the global refugee crisis through footage and interviews in more than 22 countries, is produced by Ai Weiwei, Chin-chin Yap, and Heino Deckert. Andy Cohen of AC Films with Jeff Skoll and Diane Weyermann of Participant Media are executive producing. The film is currently in post-production.
Ai Weiwei notes, "Human Flow is a personal journey, an attempt to understand the conditions of humanity in our days. The film is made with deep beliefs in the value of human rights. In this time of uncertainty, we need more tolerance, compassion and trust for each other since we all are one. Otherwise, humanity will face an even bigger crisis."
Filmed over the span of a year, Human Flow was shot by 25 film crews in Afghanistan, Bangladesh, France, Greece, Germany, Hungary, Iraq, Israel, Italy, Jordan, Kenya, Lebanon, Macedonia, Malaysia, Mexico, Pakistan, Palestine, Serbia, Switzerland, Syria, Thailand and Turkey. Ai Weiwei artfully captures the massive and shocking breadth of the global migration crisis in this epic film, which portrays the plight of today's 65 million forcibly displaced individuals – the highest number ever – forced out of their homes by war, famine and climate change on long, treacherous journeys in search of new lives.
Human Flow comes at a crucial and defining time, striking an important and emotional chord in light of recent events regarding refugees and immigrants.
Diane Weyermann, Participant's Executive Vice President of Documentary Films, added, "Ai Weiwei is a master of his craft and infuses emotion and urgency in this poignant and compelling film about the global refugee crisis."
Executive producer Andy Cohen said, "From wastelands of war and persecution, Ai Weiwei takes us on a global odyssey, never losing sight of the individual among this massive human flow – even when confronted by the guns and walls of the 'free' world."
David Linde, CEO of Participant Media, commented, "There is no better place than being here in Berlin at this critical moment to announce this powerful film to a global audience. We are thrilled to be working with an artist and filmmaker of Ai Weiwei's caliber and exceptional vision to tell this essential story."
Ai Weiwei's recent exhibitions include Laundromat at Jeffrey Deitch in New York, Ai Weiwei: Libero at Palazzo Strozzi in Florence, #SafePassage at Foam in Amsterdam, and Ai Weiwei at Cycladic at the Museum of Cycladic Arts in Athens. Ai Weiwei was born in Beijing in 1957 and now lives in Berlin. He has made twenty documentaries about social and political issues that have won major film festival awards.
Human Flow continues Participant's strong track record of producing influential documentaries that empower social change. Most recently, the company premiered An Inconvenient Sequel: Truth to Power at the 2017 Sundance Film Festival to critical acclaim and sparked a growing dialogue on the pressing issue of climate change.
Ai Weiwei is represented by United Talent Agency for Human Flow.