More than 2,500 teen leaders from around the country convened in Chicago last week for Boys & Girls Clubs of America's 50th annual Keystone Conference presented by Aaron's, Inc., a leading omnichannel provider of lease-purchase solutions, and its divisions Aaron's and Progressive Leasing.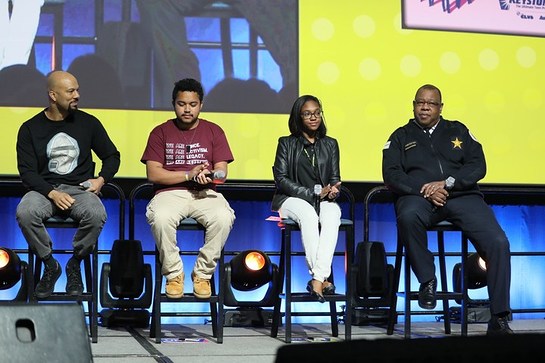 Teens participated in a session on community policing featuring Grammy and Oscar winner Common, learning how to engage in conversations that help bridge relationships between teens and law enforcement. The conference kicked-off earlier in the week with a newly renovated teen center at the Miguel A. Barreto Union League Boys & Girls Club in Chicago thanks to national partner Aaron's.
The theme of this year's conference is "Activate Your Legacy," showing teens how they can develop and enhance leadership skills enabling participants to be leaders and ambassadors in their Clubs and communities. The first Keystone conference, in 1967, also took place in Chicago.
"Each day, Boys & Girls Clubs around the country inspire and empower teens to elevate their voice and activate their legacy to build a great future," said Jim Clark, president and CEO of Boys & Girls Clubs of America. "Thanks to the support of partners like Aaron's, thousands of teens will realize opportunities to lead and make a difference in their Clubs and communities through the Keystone Club. The 50th anniversary of the Keystone Conference is a celebration of our incredible teens and the legacy of millions of Club alumni who have found their voice through their Boys & Girls Club."
The Miguel A. Barreto remodel was the 18th renovation made possible through a partnership with Boys & Girls Clubs of America and Aaron's. With input from the teen members, Aaron's associates and Club officials worked Monday painting, decorating and furnishing a study, games and lounge area the Club. On Wednesday, local Aaron's associates and Club officials unveiled the new space, which is now equipped with new technology, sectionals, tables and chairs, sound systems and fresh coats of paint.
"For five decades, Keystone, Boys & Girls Club of America's premier teen leadership program has transformed the lives of youth across our country, and Aaron's is honored to help make a difference in these teens' lives," said John Robinson, CEO of Aaron's, Inc. "The 50th Annual Keystone Conference is a shining example of how young people can learn to be leaders and affect social change even at their young age. Aaron's is grateful to help America's teens realize their potential by investing in this instrumental program."
In 2015, the Aaron's Foundation, Inc. announced a three-year, $5 million national partnership with Boys & Girls Clubs of America's Keystone Program, helping teens develop their character and leadership skills in hopes of helping them reach their potential and creating positive change in the community. Keystone Club teen centers provide members ages 14-18 an environment to plan and participate in activities that focus on community service, academic success, career preparation and teen outreach.
Aaron's partnership with Boys & Girls Clubs of America's Keystone Program inspires teens to "Own It" by taking ownership of their choices to build the lives they deserve. The Aaron's and Keystone Club "Own Your Future" campaign supports three principles:
• Own Your Path: No matter where you come from, the future is yours to decide.
• Own Your Decisions: Making good choices opens more doors for your future.
• Own Your Community: Use your talents to make an impact in your community.