At a poolside press event over the weekend, hosted at a Boys & Girls Club in Chicago, the U.S. Consumer Product Safety Commission's (CPSC) Pool Safely campaign and the Michael Phelps Foundation announced a new partnership focused on addressing a serious public health crisis: child drownings.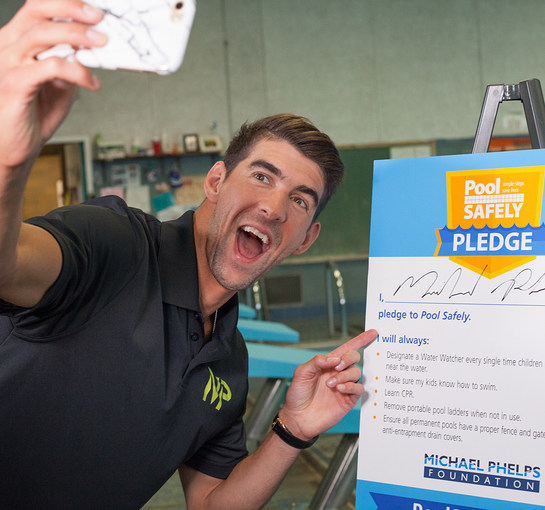 Pool Safely and the Michael Phelps Foundation will collaborate to promote each other's efforts to help prevent fatal and non-fatal child drownings in swimming pools and spas across the country. The Michael Phelps Foundation joins more than 1,000 Pool Safely partners that work together to educate individuals and families nationwide about the importance of being safer in and around the water.
"CPSC is excited to collaborate with the greatest swimmer in the history of the sport and his Foundation to help educate millions of Americans and their families about the simple water safety steps that can save lives," said CPSC Commissioner Joseph Mohorovic, who participated in today's event. "By working together in a public-private partnership, Pool Safely and the Michael Phelps Foundation's im program will help kids have a safer time in and around the water, this summer and beyond."
"We are pleased to partner with CPSC's national drowning prevention campaign and continue to raise awareness for water safety initiatives," said Michael Phelps, President of the Michael Phelps Foundation. "Our im program reaches thousands of youth and young adults year-round with water safety, wellness and goal-setting programming. The progress we have made to date is very encouraging, but we have more work to do. We are committed to helping people have a better understanding of how to be safer, yet still have fun, in and around the water. Join us – and other Olympic swimmers – in taking the Pool Safely Pledge!"
"New data from the Pool Safely campaign shows a 17 percent decline in fatal drownings in pools since 2010 among the most vulnerable population: children younger than five," said CPSC Acting Chairman Ann Marie Buerkle. "We are making progress, but we need even more kids taking swim lessons, more adults serving as Water Watchers, more fences installed, and more people trained in CPR. Today's swimming lesson with Michael and his Foundation serves as a reminder of the importance of all children learning how to swim — no matter where they live or what their circumstance."
At the partnership event, clinic participants received swim instruction, as well as learned about the importance of water safety. Children also took the Pool Safely Pledge, which affirms that they will: never swim alone, ask parents for swimming lessons, and stay away from drains in pools and hot tubs.
Since its inception in 2010, the Pool Safely campaign has developed a network of partners that serve as the lifeblood of the campaign. These groups include local safety organizations to national entities, such as the Boys & Girls Clubs of America, Walmart, the American Red Cross, YMCA of the USA, the National Drowning Prevention Alliance and the Boy Scouts of America. Pool Safely partners have played a critical part in the campaign's effort to increase awareness of water safety and prevent fatal and nonfatal child drownings and drain entrapments in pools and spas.
Pool Safely is CPSC's public education and outreach effort to prevent drownings and entrapments in swimming pools and spas. The campaign provides a number of resources to help parents teach their children about water safety, including a new Kids Corner on the campaign's newly designed website where parents will find:
• the Pool Safely Song, written and recorded by children's performer Laurie Berkner;
• "The Adventures of Splish and Splash" smartphone app, available for free download on Android and Apple products; and
• the Pool Safely Pledge, with Pledges specifically designed for kids (adults should take their version as well).