On Sunday, tens of thousands of young people, families and community members from coast-to-coast came together on Parliament Hill for WE Day Canada to mark Canada 150 and celebrate as the nation turned their focus to building the country's next 150 years.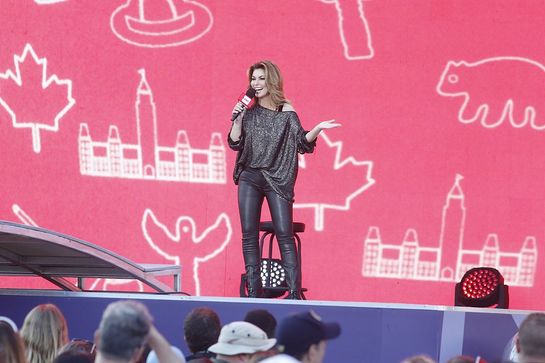 Ready to build a stronger future together, exceptional Canadian youth paired with iconic national celebrities and thought leaders took to the WE Day Canada stage for an evening of epic performances, inspiring speeches and remarkable celebration.
Alongside international activists and WE co-founders, Craig and Marc Kielburger, WE Day Canada featured a cast of distinguished Canadians, innovators and trailblazers including Prime Minister Justin Trudeau, along with Barenaked Ladies, National Chief Perry Bellegarde, Roméo Dallaire, Gord Downie, Marc Dupré, Nelly Furtado, Hedley, Tom Jackson, Governor General of Canada David Johnston, Maripier Morin, Alex Nevsky, Kardinal Offishall, Penny Oleksiak, Serena Ryder, Lilly Singh, P.K. Subban, Jacob Tremblay, Les Trois Accords, Margaret Trudeau, Shania Twain and more.
"Performing on Parliament Hill for WE Day Canada was an extraordinary experience — as a WE ambassador and proud Canadian, there was nowhere else I'd rather have been this weekend," said singer, songwriter, producer and WE ambassador, Nelly Furtado. "Having had the opportunity to meet warm and welcoming young people and leaders from across the country, my heart is filled with hope — I'm confident in the difference we can make as a collective good and in the future of our nation."
"As a global organization with our roots proudly planted in Canada more than 20 years ago, hosting WE Day on Parliament Hill was an incredible honour," said international activist and co-founder of WE, Craig Kielburger. "Canadians across the country have shown us they care, that they're dedicated, and that they will continue to build a stronger Canada — I'm certain that our country is in good hands and am excited about what we will accomplish together over the next 150 years."
Top show moments from WE Day Canada:
• Gord Downie with Pearl and Daisy Wenjack sharing the story of Chanie Wenjack, followed by an emotional 100 person youth choir performance of "Stranger" from Gord Downie's Secret Path Project
• Shania Twain takes the stage to share what being Canadian is all "aboot"
• Prime Minister Justin Trudeau pledges to build a stronger future for Canada
WE Day Canada is part of WE are Canada – WE's national campaign marking Canada 150 – bringing millions of Canadians together with the collective goal of inspiring them to take action towards building a more caring and compassionate future nation. WE is engaging a generation of Canadians to make local, national and international impacts through the multi-faceted program. WE are Canada engages people coast to coast, challenging Canadians of all ages to raise $1 million for Canadian organizations and commit to one million hours of local volunteer service.
The national program empowers Canadians to gain a deeper understanding of social issues, inspiring them to make a difference in their communities and across the country, helping to build the nation's next 150 years. The first step that every Canadian can take is the WE are Canada Pledge. By taking the pledge, people across the country are joining a collective movement of active change-makers who are committed to building a strong future Canada. Learn more about how to get involved on Facebook.
WE Day Canada was taped for a special television broadcast that will air on Saturday July 8, 2017 at 7 p.m. EDT on CTV and Friday July 14, 2017 at 9 p.m. EDT on MUCH.
As a part of the Government of Canada's weekend long celebrations in Canada's capital region, WE Day Canada was made possible thanks to the support of senior advisor and executive producer Jeffrey Latimer and Honourary Co-Chair National Chief Perry Bellegarde.
WE Day Canada was presented by RBC, TELUS, Seventh Generation, and Teck, along with partners including: Canada 150 Champion, The Jim Pattison Group; Canada 150 Champion Families, Paul & Leah Atkinson & Family, Kevin & Mandi Kimsa & Family, and Mark & Sarah Wellings & Family; In-Kind Partners, Cadillac Fairview, WestJet, Freshii, and Farmboy; and, Amplification Partners, Cineplex Entertainment, Facebook Canada, PATTISON Onestop, The Globe and Mail and LeDroit.