Co-chairs Natasha Koifman and Suzanne Boyd hosted the 15th annual Artists for Peace and Justice (APJ) Festival Gala, an intimate event raising $700,000 last week and $35 million over 15 years for education in Haiti.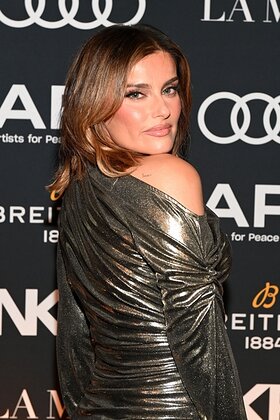 The night began with a beautiful performance by Haitian musician and long-time APJ supporter Paul Beaubrun. George Stroumboulopoulos then returned to the stage in his role as emcee for the evening, expressing gratitude for supporters and guests while celebrating APJ's newest board member, Kardinal Offishall.
Natasha Koifman, Canadian and US Board Chair and Festival Gala Co-Host, began by commemorating the 15th anniversary of the APJ gala. She spoke passionately about her commitment to the cause and appreciation for the dedicated supporters in attendance. Opening the night in a grateful and motivational tone, Koifman highlighted the positive change made possible in Haiti thanks to the commitment of the organization's donors. Haitian students face many challenges but have found a safe haven in the school built with APJ's donations. With Haitian graduate William Osias in attendance, Koifman was reminded of a moment she was almost brought to tears, seeing him with his family after eight years at the APJ Academy, knowing this school helped him become who he was meant to be. She highlighted the $35 million dollars raised from the organization to-date and the 28,000 students attending since the academy's opening.
Hig hlights from the evening include:
Nelly Furtado was honoured with the official Artist for Peace and Justice Award for her devoted activism for children's rights and education in developing countries, presented by Lido Pimienta.
Dax Dasilva presented award winning filmmaker, artist and mental wellness advocate, Julien Christian Lutz pka Director X with the prestigious Canadian Changemaker Award for the impact he has made through leading a transformative movement dedicated to raising mindful awareness.
Special performances from Haitian musicians Paul Beaubrun and Charmie, Derniere Reve and Kodai Okuno, and

APJ

Graduate William Osias and his guitarist Henry Madner Mitcheal.
A live auction led by stars of the hit show Trading up with Mandy Rennehan, Mandy Rennehan and Lauren Ferraro raised over $300,000.
Artist Anthony Ricciardi impressed guests with live interactive art on site which will be donated as a commemorative gift to the

APJ

Academy for the gala's 15th anniversary.
Natasha Koifman and George Stroumboulopoulos led an inspiring moment to "Fund The Need", identifying significant need at the Haitian academy for uniforms and teachers' salaries.
Generous sponsors for this year's event include: Audi, Breitling, La Mer, Oxley Real Estate, NKPR, and Flow Beverage Corp.